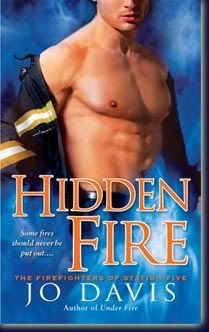 I believe I've talked about author
Jo Davis
before, here and possibly at Romancing the Blog, but I wanted to give a shout about the third/most recent release in her "Station Five" series - HIDDEN FIRE. I've just posted a Romance Junkies review for this book and wanted to share it with you. Ms. Davis has a new series as well, The Shado Agency (from NAL Heat), and while I haven't read the first in that series, I SPY A WICKED SIN, you can bet that I'll be getting my hands on it soon - it looks great! More about that once I actually have it in my hands. When I first saw the cover for I SPY... I emailed my pal AlisonKent to tell her that "the rest of " her cover for NO LIMITS was being used - interesting how cover models often do "double duty"! In the meantime, here's some chatter and my review for HIDDEN FIRE:
The scorching hot firemen of Station Five are known for cranking up the heat. Sexy rogue Julian Salvatore is no exception…
He's more than earned his reputation as a ladies' man, but chasing women has also been a way to outrun a terrible secret from his past. Then he meets defense attorney Grace McKenna, a beautiful ice queen who's more than willing to give Julian her body, even if he can't seem to melt her heart.
In the blazing heat of their passion, Grace and Julian start to let down their guard—just as a series of grisly murders rocks Nashville and Julian is targeted by the killer. As the firefighter comes face to face with his demons, he and Grace must race to uncover the terrible truth—or become the next victims
.
Click
here
for an excerpt!
My Romance Junkies (4.5 blue ribbon) review:
HIDDEN FIRE, the third book in the Firefighters of Station Five series by Jo Davis, gives readers a heated look behind the scenes of the firehouse and the courthouse with firefighter Julian Salvatore and defense attorney Grace McKenna.
Grace McKenna has avoided the advances of firefighter Julian Salvatore because of his reputation as a shameless ladies man. She doesn't understand Julian's extreme, almost desperate, concern over her latest client when he sees them together. Julian works with Grace's brother-in-law, Howard, and while she's hesitantly interested in spending more time with him, she finds herself incredibly attracted to his irresistible charm. But there are layers to Julian that he's kept hidden until Grace is drawn into his violent past.
Julian has been doggedly pursuing Grace for some time and can scarcely believe when she agrees to a date. What Grace doesn't know is that his feelings for her run much deeper than simple lust. Julian has issues from his youth that he would just as soon keep to himself, but threats to Grace require their revelation. Recent, disturbingly violent, kidnappings and murders appear to be connected to Grace's new client and the terror from Julian's past. It isn't long before Julian and Grace, together with many of his co-workers, are caught up in a shocking investigation.
HIDDEN FIRE is a wonderful example of romantic suspense. Readers will find themselves cheering for the relationship between Julian and Grace to work. Secondary characters from previous books in this series are smoothly and successfully woven into the story and it was extremely satisfying to catch up with them. Jo Davis has many fans of her work, this series in particular, and they will be thrilled to know that the next book in the series, LINE OF FIRE, will be releasing in May, 2010.
Want a copy of HIDDEN FIRE? Pop over to
Amazon
to toss a copy in your cart!
I hope you'll take a minute or two and check out this
excerpt
for LINE OF FIRE!
Again, I'm making it easy for you to slip over to
Amazon
to preorder your copy OF LINE OF FIRE!
I'm especially excited for RIDE THE FIRE (Dec '10) which is Sean Tanner's story - Sean is the Captain of Station Five, and Ms. Davis has tortured the poor guy endlessly. lol I so can't wait for him to get his HEA!
Thanks for stopping! By the way, all prizes from last week have been packed up and are ready to go to the post office tomorrow.
Laurie