AND THE WINNER IS - Lynn R!
Congratulations, Lynn! Please contact me with your mailing info at ljodamron@gmail.com by Sunday, 3/21. If I don't hear from Lynn by Sunday evening, I'll pull another name, so be sure to check back.
Thanks to everyone for your comments and one more time I'd like to send out a big thank you to HelenKay!
I'm betting that few authors have been as busy as
HelenKay Dimon
lately. Three new releases between February and June, 2010 mean she was a mighty busy woman in 2009, I'm guessing. I hope you'll all take a moment to check out the chatter below to see what HelenKay's been working on and then be sure to leave a comment for a chance to win an autographed copy of LEAVE ME BREATHLESS.
PERMISSION TO APPROACH
According to Judge Bennett Walker, trying to kill him is a dumb idea. They might make him wear a big black nightgown to work, but it covers a lot of muscles, and he's definitely packing beneath it. He's also an ex-prosecutor and an ex-GI Joe. So when his brother brings in Callie Robbins to protect him, Ben has a few issues. First, he doesn't need a bodyguard. Second, she's a 130-pound girl—more smoking hot than smoking gun. And third, what if his body wants her guarding the night shift?
Callie has no problem brushing aside Ben's disbelief. She left the FBI to escape the boys' club, but she can be deeper undercover and twice as lethal as any beefy John Doe. As for whether someone's after Bennett or not, the death threats and car bombs look pretty convincing to Callie. Of course, she might get distracted, sitting inches from the sexiest judge in DC for ten hours a day. Keeping him safe is no picnic. Keeping it professional—that might be impossible.
My review:
Bennett Walker isn't your typical judge. He's gorgeous, tough, and former military – no hiding behind the robe for him. Callie Robbins is equally gorgeous and equally tough, former FBI – hired to keep the good judge safe and sound. Sparks are guaranteed to fly!
Callie Robbins took the assignment to guard her boss's brother, the Honorable Bennett Walker, after threats against him have begun to escalate. She didn't expect him to be pleased about the situation, but she could never have anticipated the instant attraction sizzling between them. Callie had a bad experience with her superior at the FBI and while most women would have been professionally weakened by the experience, it only served to make Callie stronger and more determined than ever to do her job to the best of her ability. Ben Walker proves to be a challenge from the start. He may not want Callie as his "bodyguard" but he can think of several other things he'd like to do with her.
Bennett Walker is taking the threats against him very seriously, regardless of how nonchalant he's acting around his brother. Dark secrets have hung heavily on them both for years and they owe their every strength and success to their past. Callie is a bit of a wise-ass and Ben, rather than being turned off by it, finds her sarcasm and eagerness to banter with him surprisingly stimulating. Almost as soon as Ben gets used to having Callie around as his protector, the threats expand to encompass Callie and his concerns about his own safety are forgotten.
HelenKay Dimon always delivers hard-hitting emotion. Not necessarily in your face, crying for attention, but more understated in layers that make themselves known little by little. There's a story within a story in this book, with the romance of Ben's brother, Mark, and their long-time friend and fellow judge, Emma. I chose not to mention it because it deserves more than a mere mention. Frankly, it almost deserves a review of its own, it's just that good. Obviously, the secondary characters in this book play a very important part in the telling of Callie and Ben's story. LEAVE ME BREATHLESS covers every base and will satisfy every romance reader's need for intrigue, danger, suspense, romance and sizzle, and I highly recommend it.
I know you're going to want a copy - click on over to
Amazon
to make it happen! At the time of this post, you can practically steal it for $10.08/Kindle version $8.96, so hurry!
Also new from HelenKay - her first Harlequin Intrigue - congratulations, HelenKay!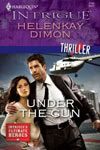 Yep, I've read it and it has my highest recommendation. How many of you read series romance? I love them! I call them "check out books" because I rarely go past the bookstand in my grocery store (it's on the way to the checkout counter) without stopping to take a peek, which usually results in at least one going into my shopping basket. I have to admit to buying fewer books at the grocery these days though. Tim gave me an iPod Touch for Christmas and with the Kindle for iPod app, I get most of my books downloaded directly to the iPod. It's almost criminal, how easy they make it for me to spend money on books!
A little about UNDER THE GUN:
A good agent never lets the job become personal…
Who wanted her dead? That's what Claire Samson wanted to know. On the run and alone, there was only one man she trusted to find her. Recovery agent Luke Hathaway was the best at locating and saving, and she needed the best if she wanted to live. But the handsome agent who promised salvation had some conditions of his own. If he were to help, she needed to stick close by his side. Very close. And the only thing more dangerous than her current situation was the way Luke made her feel. From the protective look in his green eyes, she could tell he felt the same. But every second that brought them closer together was also ticking toward an explosive confrontation that might tear them apart…
Another link to
Amazon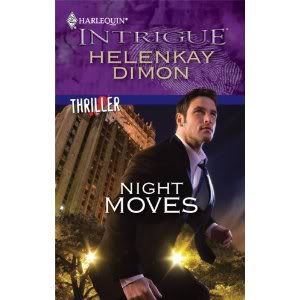 for your ordering pleasure!
While you're here, you might as well have a look at the cover for HelenKay's NIGHT MOVES, coming in June, '10 - I know I'm not the only one who's excited about it! Oh, ok, I'll make it easy for you yet again - click
here
to go shopping at Amazon. I don't have any more info for NIGHT MOVES (the cover just went up on HelenKay's blog yesterday) - but keep checking her site for more details.
HelenKay is offering an autographed copy of LEAVE ME BREATHLESS to one lucky reader! Want in the draw? Of course you do! Just leave a comment - you know how this works, let's chat it up about HelenKay's work, characters, covers, blog, etc., ok? I'll draw a winner on Wednesday, March 17, 2010 (evening), so don't drink so much green beer that you forget to check back!
That concludes my "It's all about HelenKay" post - I hope you've enjoyed your visit!
Thanks for stopping! Big thanks to HelenKay for the copy of LEAVE ME BREATHLESS, and equally big congratulations on all of your exciting releases!
Have a great weekend!
Laurie