AND THE WINNER IS: Lady_Graeye - Congratulations! I know you're going to be thrilled with LaConnie's books! Please contact me at ljodamron@gmail.com with your mailing information by Sunday, March 28th. If I don't hear from Lady_Graeye by Sunday, I'll draw another name, so stay tuned! Thanks so much to everyone who stopped by and for your wonderful comments - I truly appreciate it! And big thanks to LaConnie for her beautiful romances - you've absolutely gained an adoring fan with me!
I have only recently discovered author
LaConnie Taylor-Jones
, and I'm so thrilled that I did! When I read the blurb and excerpt for her latest release, IF I WERE YOUR WOMAN, I was very interested. Upon discovering that this was the third in a series, I decided to start off with the first two books in the "Baptiste family" series and ordered them immediately - I've come into so many series late, starting a book or two into it, and wanted to start at the beginning this time. First up was WHEN I'M WITH YOU and the second was WHEN A MAN LOVES A WOMAN. You'll find excerpts and ordering information for this three-book series on Ms. Taylor-Jones's website.
A blurb for IF I WERE YOUR WOMAN:
Tinsel Town is about to learn a few lessons from a Southern doctor with the courage to win the heart of a man who swore no woman ever would.
If it doesn't have a scientific basis, Dr. Laney Olivia Houston doesn't believe in it and that includes love at first sight. One encounter is all takes with Raphael Baptiste for her to realize her life is changed forever.
Jazz musician, Raphael Baptiste is no stranger to women or their beds. When an illness strikes, his life is thrown into turmoil. Can a quiet Southern belle look beyond his past and capture his heart?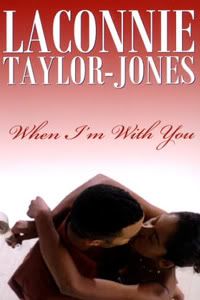 WHEN I'M WITH YOU:
Marcel Baptiste is a wealthy entrepreneur and philanthropist. He meets Caitlyn Thompson, the head of a struggling youth center, when she appeals to his philanthropic foundation for funding. Marcel is smitten and begins wooing her, but she is a hard sell: she has relocated to Oakland after being beaten and raped by Cole, her controlling ex, and is very gun-shy when it comes to men. As Marcel falls more deeply under her spell, he decides that merely loving her isn't enough: he must also help her vanquish the ghosts of her past.


WHEN A MAN LOVES A WOMAN:
Nursing administrator Victoria Bennett has soured on love. She has sworn off men; they bring too much drama and too much pain into her life. That is, until she meets pediatrician A. J. Baptiste, a single parent who is determined to woo her. A. J. will stop at nothing to have her, and Victoria finds her resolve put to the test…but is this a fight she really wants to win?
I give this series a very high recommendation and hope you'll check it out. The characters are beautifully written, and the heroes are respectful, with morals and heartwarming family values. Ms. Taylor-Jones's heroines are confident and proud, capable of taking care of themselves, but intelligent enough to know that there's no shame in letting a man look out for you. That said, I have to add that while the characters are kind and considerate, there's no lack of steamy passion, and those of you who appreciate an abundance of heat won't be disappointed.
Have any of you read Ms. Taylor-Jones? If not, I'd like to remedy that - every romance reader out there should be reading her work! I've decided to make a personal introduction by offering one copy each of WHEN I'M WITH YOU and WHEN A MAN LOVES A WOMAN to one lucky reader here. (Please note that these are not autographed copies.) Like always, simply leave a comment to get your name in the draw. Tell a friend who mentions your name in their comment and I'll throw your name in an extra time for mention. I'll draw a winner on Wednesday, March 24.
Be on the lookout for reviews for Jill Shalvis's INSTANT TEMPTATION, Kay Stockham's SHE'S THE ONE (there will be giveaways) and the sweetest of the sweet, Patricia Sargeant, will be guesting here in the next couple of weeks to celebrate the release of her upcoming release, HEATED RIVALRY!
Thanks for stopping - I hope you all have a terrific weekend!
Laurie