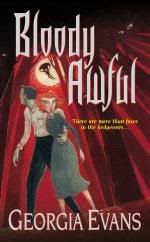 For Georgia Evans, aka Rosemary Laurey, the sweet taste of success continues with her
Brytewood
series. Georgia/Rosemary is multi-talented: wife, mother, grandmother, seamstress, storyteller, and she's an absolute pleasure to visit with. Her telling of the night she met her husband is truly priceless, the stuff of romance novels. I love hearing it! The reviews for the Brytewood series have been upbeat and positive and Rosemary was even recently mentioned on the
Huffington Post
, so exciting!
Noteworthy from Georgia's Brytewood site:
Georgia Evans is the pseudonym I use for my Fantasy books. I'm better known as Rosemary Laurey.
The Brytewood books are a different venture from my Paranormal Romance and this series is very special to me as I grew up in the Mole Valley - the setting for my imaginary village - and some of my earliest childhood memories are of seeing the damage wrought on the area by the Blitz, and listening to stories from my mother, grandmother, aunts and older cousins on how they coped with rationing, bombs, the blackout and shortages of all sorts.
These books are a testament to the hundreds of thousands of women who struggled, did without, and made do under dire conditions and survived the war and to those who didn't.
Want to learn more about the "Bloody" series? Go
here
for videos, excerpts and ordering info.
A brief review from me:
1940 England isn't want it appears to be. Yes, war is raging all around, but chances are the locals might be more fearful of their fellow residents if they knew the truth about them. Nurse Gloria Prewitt is a werefox, clever and savvy; she changes at every full moon. Toss in a witch, some pixies and a weredragon, and you've got a unique cast of characters in BLOODY AWFUL by Georgia Evans. Gloria has fallen quite hard for Andrew Barron, secret munition plant supervisor, and while she is fully competent and willing to do battle with the vampires who've invaded Brytewood, her biggest fear is Andrew's reaction should he learn her secret.
This was my first Georgia Evans book, but it certainly won't be my last. She's been blessed with a creative flair that few possess. Ms. Evans writes with a rhythm that smoothly takes readers through the story while giving a bit of a history lesson, to boot. I highly recommend BLOODY AWFUL and hope you'll be tempted to check out the entire "Bloody" series.

Thank you, Rosemary, for allowing me to review this fun book for you! Readers, please do yourself a favor and visit Brytewood it's cast of characters. I've distributed Brytewood bookmarks to several area bookstores, but held onto ten to offer up to readers here, so let me know if you're interested in one (first come, first served). Don't post your mailing info here though, please send me an email at
ljodamron@gmail.com
and I'll pop one in the mail to you.
Laurie