Warm, clear days and crisp, clear nights and mornings can only mean one thing: fall is coming to Ohio! Personally, I love fall. I love the changing leaves, the changing farm market produce, making applesauce, the festivals, and decorating with gourds, Indian corn and leaves. Fortunate for me, Tim enjoys fall as much as I do, so we spend a good deal of our weekends running around from one farm market or festival to the next. Tomorrow we have plans to go to an antique show/flea market - it will involve walking hundreds of miles. Not really, but it will feel like it by the time we fall into the car to drive home. We're not looking for anything in particular. Tim likes to tell the girls when we leave on an antique outing "We're going to see if we can find some more shit for you to auction off when we die." Funny guy.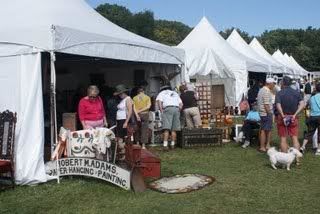 Fall also brings our county fair to life. It starts tomorrow, and while I don't go every year, it's fun to occasionally indulge in a little fair food and check out the various exhibits. My favorite has always been the Arts & Crafts building, where you'll find various flowers, produce, home canned goods (so beautiful!), baked goodies, quilts, clothing and photographs. It's fun to compare the blue ribbon winners to those less fortunate, and throw out our .02 as to who was more deserving, or maybe thinking out loud that "we" could have done better. The fair also means almost a week of harness racing, prequel to The Little Brown Jug races on Thursday. "The Jug" draws competitors and spectators from all around the world and is a very big deal in the horse racing community. Around these parts, Thursday of fair week is known as "Jug Day" and city schools and many/most businesses close for the day. We live directly behind the fairgrounds, meaning we hear all of the sounds, the star spangled banner at noon everyday, the announcer, the starting horn and cheering fans. Of course, we also hear the whoosh of the throw-up rides (as my friend April appropriately used to call them when our kids were young - the name stuck), and the scr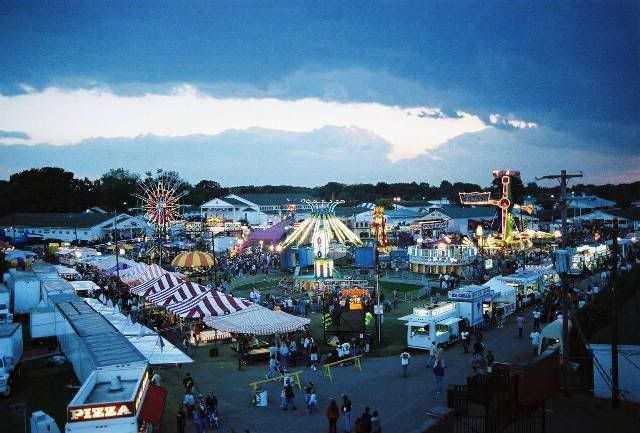 eams of the riders. We're also close enough to smell the various edibles on sticks deep frying in oil, to hear the horses and various livestock being led to race or show, and the thundering engines of the buses during the school bus races, the demolition derby, or the massive tractors in the tractor pulling contest. Those monsters are so loud that our windows occasionally rattle. Earplugs, anyone? One thing I don't relish about fair week is that the fly and yellow jacket populations increase dramatically in our neighborhood.
Given how important harness racing is to our community, the city high school mascot is a "Pacer" and we have an All Horse Parade the week before the fair starts. The pic below is from last Sunday's parade, and the riderless horse was in memory of a 22 year old local soldier who was killed in Iraq on September 8th. I went to school with his mother and the tragedy of her loss hit me when his funeral procession went through town yesterday and hundreds lined the streets holding flags. News helicopters buzzing overhead, sniffling onlookers and the hum of the dozens of police cars and motorcycles in the motorcade were the only sounds to be heard. I hope you'll all keep this young man's family and friends in your thoughts and prayers.
Another pic from the horse parade below. There are (I believe) over 300 horses in this parade. The only exception to the rule of being "all horse" are the marching bands. I've always been terribly intimidated by horses and still find their power a little frightening, but I love, love, love those little miniature horses and these big black Percherons - from a distance. I realized that the majority of the photos I took were of those two groups of horses!
I hope you all have a great weekend and that you're able to get out and enjoy the impending fall. Please tell us about the fun things you do to celebrate fall.
I'll be posting a review and giveaway in the next few days - a clue for you: HelenKay Dimon!!
Laurie