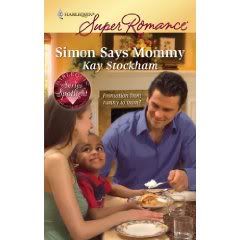 Kay Stockham
has a new book out and it's available now - SIMON SAYS MOMMY. Typical of Kay, this book is sweetly romantic, a poignant story about a couple who desperately need each other, but have many obstacles in their way. Kay was kind enough to request that I review this book on behalf of Romance Junkies for her and needless to say I was excited to have the opportunity!
Kay's website blurb:
Talk about being in over your head!
Dr. Ethan Tulane is juggling more than even his type A personality can handle. Between his new job as chief of surgery and learning to be a dad to Simon, his adopted son, Ethan is desperate. Enter Megan Rose, the temporary nanny. Simon bonds instantly with her, which makes Ethan heave a sigh of relief—even as he notices she's very good-looking.
It's not long before they're exploring those sparks between them. Megan might be the one woman he could have forever with. Too bad there's something she's not sharing—something that could send her to the door before he can talk commitment. Ethan can't let that happen, so it's time for the big guns—letting Simon persuade her!
My (4 blue ribbon) Romance Junkies review:
In SIMON SAYS MOMMY, Kay Stockham tells the story of a beautiful young woman with a flawed past and a successful surgeon who's questioning his future. Together they might just find the secrets of true love and the promise of happiness.

Megan Rose has repeatedly found herself the target of the most brutal of life's hard knocks. Having suffered at the hands of an abusive husband, struggled her way through a bitter divorce, and finding herself extremely ill and living in her car, Megan makes her way to her sister's home. She's hopeful that Jenn will set aside their past differences and let her stay long enough to regain her strength and attempt to mend their damaged relationship. When Jenn wants no part of Megan and refuses to let her stay, Jenn's brother in law, Ethan Tulane, takes Megan home with him and his recently adopted son, Simon. Megan never dreamed she would find herself being cared for by the incredibly handsome surgeon, or in turn, caring for his young son.
Ethan Tulane's sole purpose in life seemed to be attaining the position of Chief of Surgery. When he was passed over for the position, he went to Niger with Doctors Without Borders where he fell in love with a young orphaned boy and decided to adopt him. After Ethan returns home and is named interim Chief of Surgery, he quickly finds himself in over his head. Taking pity on the very ill Megan, Ethan takes her home and doctors her back to good health. When she's back on her feet, he offers her the position as live-in caregiver for Simon. Being fond of Simon, and thinking that staying on with Ethan will keep her in close proximity to her sister, enabling her to work on renewing their sisterly bond, she accepts his offer. The last thing Ethan or Megan expects is the attraction between them that quickly becomes heated, or the way Simon instantly connects with Megan.
Kay Stockham has once again given readers a beautiful love story. Megan and Ethan aren't your typical romance characters. Megan has the baggage of a difficult childhood, an abusive marriage and a strained relationship with her sister. Ethan is without a doubt one of the good guys, but his need for total organization and perfection has put almost every aspect of his life on a collision course. Seeming the most unlikely pair, Megan and Ethan couldn't be more perfect for each other. SIMON SAYS MOMMY comes with my very highest recommendation.
I'm going to give away my autographed copy of SIMON SAYS MOMMY. You'll have to do a little work for it (very little) - simply visit Kay's website and tell me a couple of things that you like about it. Don't forget to visit her blog while you're there, it's always great fun and she gives away some yummy prizes! I'll draw the winning name on Friday the 18th, so be sure to leave a comment by then. Most importantly, I don't attempt to track down giveaway winners, so be sure to check back to see if your name was drawn!
For all of you who aren't able to get out to your favorite bookseller to get a copy, here's a link to
Amazon
so you can order a copy to be delivered directly to your door!
Thanks to Kay for asking me to review this one, and thanks to all of you for checking it out!
Laurie