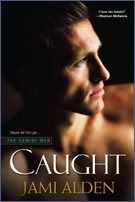 I've read most of the books by
Jami Alden
and wanted to chat about her most recent releases, CAUGHT and KEPT because they are great examples of romantic suspense - and you all know how I love my romantic suspense!
After coming up empty handed at the mall bookstore, I ordered CAUGHT and KEPT from Amazon and was thrilled when they arrived this past week. I read CAUGHT in two days and fell head over heels in love with Ethan and his brothers. Knowing I had review books to read, I was determined to keep KEPT on the nightstand for a couple of weeks. That thought lasted about two hours and I started reading last night, finishing it late this afternoon. These books kick ass. I don't have time to do full-blown reviews but have to say that the characters and their stories are absolutely wonderful and I'm sure that you'll fall in love with them as quickly as I did. This series follows the Gemini Men, three private investigator brothers who are, needless to say, gorgeous and larger than life, doing anything and everything necessary to serve their clients, hell-bent on protecting and keeping their women completely satisfied.
Got an investigation situation? Call the Gemini Men: Ethan and Derek Taggart. Yeah, they're twins. Double the trouble and twice as sexy—women can't get enough of them or their older brother Danny, who keeps 'em in line when things get wild…
Ethan and Derek Taggart: they're the men of Gemini, and when it comes to sheet-scorching undercover work, nobody does it better. The only one they answer to is big brother Danny—that is, until the right women come along to grab the reins and crack the whip as hard as the Taggart men like it...

CAUGHT is the story of Ethan Taggart who meets his match when teamed with Toni Crawford, private investigator/computer whiz.
Here's a blurb:
Ex-military. Tall. Chiseled. Intelligent and arrogant. And so hot he's on fire. That's Ethan Taggart. Male to the max. Toni Crawford, computer genius turned PI, can't stop looking at him and Ethan's returning the favor. Nice and slow. Those piercing blue eyes of his are about to melt her down but…nothing doing. Toni has to stay cool. Focus on the assignment: the teenage daughter of a multimillionaire just vanished in plain sight. Chasing down leads, investigating every freaky angle, pushing past the boundaries of a hellish underworld of sex and drugs, Ethan and Toni are forced to work closely to stalk an unseen enemy with a taste for cruel games. Risking their lives to save the missing girl is only half the battle. Their blazingly sensual attraction grows every second, until there's no turning back. Their passion is about to explode…and Ethan and Toni soon find that danger breeds the hottest desire of all…
KEPT is Ethan's twin brother's book and when Derek Taggart becomes the personal bodyguard for Alyssa Miles, a trust funded young woman whose outrageous antics have made her the media's favorite celebrity, sparks are guaranteed to fly. Personally, I think this one would have been just as good with a little less sex, but it doesn't affect the quality of the story, so it's not a serious complaint.
Here's the blurb for KEPT:
Security is Derek Taggart's game, and he plays it straight—no margin for error, no time to fool around...except with one hot little number who changes everything. He takes her home when she needs a ride—one she'll never forget. The problem is Derek can't forget her, a total about-face for a guy who keeps his enemies closer than his lovers. Then he finds out the sexy dynamo is Alyssa Miles, notorious party girl and darling of the gossip rags. It's time to walk away and never look back, which would be a hell of a lot easier if his agency didn't desperately need the high-profile gig her family's offering: a minor detail that consists mainly of Derek watching Alyssa 24/7. Keeping an eagle eye on every inch of Alyssa's nubile body isn't exactly a hardship—the problem is keeping his hands off and his brain on when things go dangerously wrong...
Danny is the third and oldest brother, and while I can't find anything on Ms. Alden's website or Amazon about his book, there is a book cover shown on the inside flap of KEPT for a book entitled UNLEASHED and I can't help but think this might be his story. I don't know when it will be released but I can say this - it won't be soon enough! I can't wait for it and I'm hoping it will show up on the Romance Junkies review list so I can get my name in the draw for an early copy!
I hope you're all having a great weekend. We're experiencing above normal temps here in Ohio so we're trying to spend as much time as possible outdoors! Don't forget the giveaway for LuAnn McLane's latest - it runs for a couple of more days.
Laurie