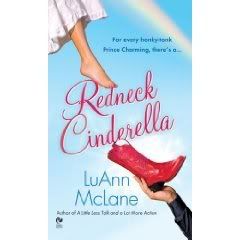 I was fortunate enough to snag the latest book by
LuAnn
McLane
for Romance Junkies review and it's so much fun that I wanted to share some chatter and my review with you! If you visit the "books" link on
LuAnn's
website, you can read the first chapter.
About the book:
Raised by her widowed father, Jolie Russell could keep up with any man—that is, until wealthy and sexy land developer Cody Dean struts into her life.
Cody buys the Russell farm with an impossible-to-refuse multimillion-dollar offer, then relocates Jolie and her dad to the Copper Creek Estates. But the country club atmosphere

isn

't ready for Jolie's kind of country. As her two worlds collide, Jolie wonders how she can ever hope to capture Cody's heart without giving up her grits.
My (4 blue ribbons) review
:

LuAnn

McLane

offers readers the fun, lighthearted story of a farm girl and admitted redneck, Jolie Russell, who goes from being dirt poor to incredibly rich. Just like Cinderella – every girl's dream, right? Unfortunately, Jolie is more than a little lost trying to fit in with the snobby neighbors in her fancy new neighborhood. It could be that in trying to find her way around in her new life she'll find much, much more in the arms of Cody Dean.
Jolie Russell and her father live on a piece of farm land that has become very attractive to local developers. When they're made an obscenely lucrative offer for their land, they jump at the opportunity for an easier life and move to a ritzy, exclusive new neighborhood where hard, physical work and old pick up trucks are frowned upon. While Jolie wants to be a well-liked, pleasant neighbor, she's often left floundering by neighbors who'

ve

repeatedly turned their noses up at her and her father. Before long, her confusion is multiplied as she's pursued by the very successful, very gorgeous, and much desired Cody Dean. Jolie

doesn

't want to lose sight of who she really is, but realizes that she and her father need some polish if they're ever going to fit in. She eventually hires a local single teacher to coach her and her father in the ways of proper etiquette. It turns out that Jolie's father can offer the teacher some lessons in the simple life and before long the social graces that she's so well-versed in don't seem nearly as important.
High dollar developer Cody Dean finds Jolie fascinating, beautiful and amusing, but he

doesn

't immediately understand the appeal of the unassuming simplicity of her life before or how she could possibly miss it. He knows that others in his social circle think she and her father are unsophisticated, but the more he's around her the less he cares about what others think and he wants the kind and caring Jolie for himself, just as she is.

REDNECK CINDERELLA is written first person, a style that

LuAnn

McLane

has proven herself very competent in. Jolie and her father are definitely simple southern folks, but they're adorable and don't come off as being simpletons. Cody Dean and his family are the upper crust of society, but Cody's opinion of what's important and what's good and what

isn

't is quickly altered after spending time with the infectious Jolie and her father. REDNECK CINDERELLA is a comfortable, easy read. It's a lighthearted look at a young woman who finds herself outside her comfort zone, looking in at the strange new world she's now a part of. Secondary romances and a charming basset hound round out an entirely likable cast of characters. I give

LuAnn

McLane

's REDNECK CINDERELLA a high recommendation to all readers who enjoy romantic comedy.
I'm going to do a giveaway for my copy of REDNECK CINDERELLA - simply leave a comment and you'll be entered. If you want to chat about
LuAnn's
work, that's even better! I'll draw a winning name on Tuesday, March 10. Just so there are no misunderstandings, this is not an autographed copy and it is not an arc, it's my review copy and has one barely
discernible
spine crease. So, while it isn't pristine, it still comes with an enjoyment guarantee!
Can't wait? Then pop on over to
Amazon
and throw a copy in your cart right now!
REDNECK CINDERELLA is especially fun and I hope you'll all grab a copy!
Have a great weekend!
Laurie