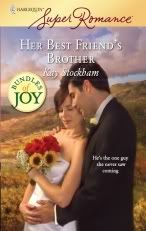 Kay Stockham
has a new book - yay!! You all know how much I love hot, steamy romance, but I also enjoy stories that are fresh and sweet, where passions and lovemaking might be a little more subdued, but the most important element - the romance – is front and center. HER BEST FRIEND'S BROTHER is the next installment in Kay Stockham's "Tulane's of Tennessee" series and I truly feel that it is her most emotionally charged to date. Kay was kind enough to send me an early copy and (with her consent) I've decided to offer it up as a giveaway here.
How could this have happened?

They had one night. That's all Shelby Brookes would allow herself to indulge in with Luke Tulane. Yes, he's gorgeous and yes, he's the greatest guy she knows, but he's her best friend's brother for crying out loud! And she's pretty sure there are rules against sleeping with friends' brothers.
Then Shelby discovers she's pregnant. And Luke's determined to do the right thing—down to the bended knee proposal and the meeting at the altar. As tempting as his offer is, Shelby's convinced she's not the marrying kind. She's bound to hurt him and that's definitely against the rules of friendship. Still, she doesn't count on how persuasive Luke can be when he really wants something…her.
And check this out - HER BEST FRIEND'S BROTHER is yet another
Romantic Times
TOP PICK for Kay! Congratulations, Kay!
"In Stockham's heartwarming and delightful tale of love, Shelby and Luke overcome their personal tragedy. The author does an excellent job detailing her characters' emotional growth." -4.5 Stars! ROMANTIC TIMES
Be sure to go to Kay's website for video trailer and excerpt!
My review:
Shelby Brookes and Luke Tulane have known each other since they were children. Luke's sister, Alex, is Shelby's long-time best friend. While there may have been an attraction between Shelby and Luke when they were teens and young adults, they never gave in to it until after Luke's brother's wedding. Maybe it was the romantic atmosphere of the wedding and the reception after, but the passion that flared between them was undeniable and irresistible.
Since their night together, Shelby has avoided Luke and ignored his calls, not terribly difficult when he lives and works in California. When Luke returns to Tennessee for his twin brother's wedding, Shelby can't avoid him. It soon becomes obvious that Shelby is pregnant from their earlier night together and Luke insists that they get married. A child of divorce, Shelby doesn't have much faith in lasting, successful marriages, but she wasn't prepared for Luke's dogged determination and perseverance and they marry.
When Luke returns to California and their marriage is long distance, Luke's positive thinking and the loving support of their families might not be enough to keep them together.
Kay Stockham writes some of the most touching, heartfelt romance I've ever read. Shelby, Luke and their families and friends are incredibly realistic and could easily be your own relatives or neighbors. I strongly recommend this book to contemporary romance lovers who enjoy sweetly sensual, emotionally gripping stories.
I'm doing a giveaway for an autographed copy of HER BEST FRIEND'S BROTHER. If you're interested - and who wouldn't be, right? - just leave a comment about one of Kay's previous releases. Title, characters, locale, whatever you wish. Look around while you're at Kay's site, there's bunches of good stuff there! I'll pull a winning name from the comments on Friday, March 13th. Fair warning: this is my review copy so it has been read and there is an ever so slight spine crease.
Don't forget the LuAnn McLane giveaway - I'll be drawing the winner of a copy of REDNECK CINDERELLA Tuesday evening.
If you'd like to order your own copy of HER BEST FRIEND'S BROTHER right now, buzz on over to
Amazon
and throw a copy in your cart!
Thanks for checking it out!
Laurie