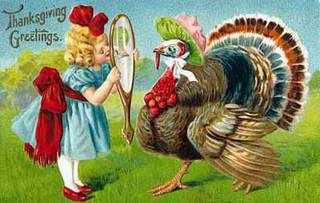 I've been looking forward to this long holiday weekend for a very long time, it seems. Tim left early this morning for Kent to bring Kelsey home and I can't wait to get my hands on her! My boss is buying us pizza for lunch today and we'll be closing the office early, but haven't heard what time yet.
We're going to my cousin's house for Thanksgiving tomorrow and I'm taking a three-layer chocolate cake (yum!), so I don't have much prep. Friday evening we'll be having our own small Thanksgiving dinner with a turkey breast and the trimmings - so we will have leftovers! That's always been Tim's gripe about going somewhere else for dinner, so this year he has no room to complain!
Saturday we'll be going to the Scott Antique Market in Columbus, something we do once a month in the winter. They're only in Columbus (once a month) for six months, so we've been waiting since April for this weekend - woohoo! This is the biggest show of the season and there will be loads of Christmas stuff and old ornaments - my fave! Can you tell I'm super excited?
What are all of you doing for the holiday? What are you most thankful for?
I'm thankful for my family, of course, our health and our jobs. I'm also thankful for the many friends I've made online - each and every one of you are so very appreciated!
Please be careful if you're out on the road!
Bless you all,
Laurie
PS - Check back this weekend for a contest for Jill Shalvis's Christmas (Blaze) anthology - I picked up an extra copy at WalMart last night when I went to buy some new cake pans.