Given the circumstances with Fred the past two-plus weeks, I'm a little (ok, more than a little) behind on review reading. I've just started Sasha White's PRIMAL MALE, which I believe releases in a couple of days. I'm also about to start Karin Tabke's MASTER OF TORMENT, which releases today! I adore the different flavors of both of these authors and hope that these books just fly off the shelves for them. I'll have reviews for both up soon, hopefully in the next week. My apologies to Sasha and Karin for being so late.
I was in the Cincinnati area over the weekend and after a fabulous brunch at Dianne Castell's house on Saturday, went to a booksigning at Barnes & Noble - I spent a fair amount of time browsing around and picked up Karin's holiday romance, HAVE YOURSELF A NAUGHTY LITTLE SANTA and my pal Jill Shalvis's HEATING UP THE HOLIDAYS. Gotta love those Christmas romances, right?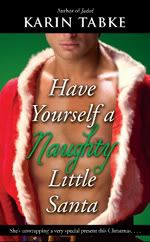 When you look at all of these covers, I'm wondering if you see the same thing I did when I put them up? Other than the Santa jacket hanging loose, there's not a shirt to be found! Hmmmm . . .
I hope to get these holiday books read in time to share the good word, but in the event I don't - Karin and Jill couldn't write anything bad if they tried, so I encourage you to go ahead and get a copy of each for your December reading.
I hope everyone is having a great week and looking forward to the Thanksgiving holiday. Thank heavens it will be a short work week!
Laurie