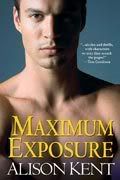 Alison Kent
has a new book releasing soon - the latest in her SG-5 series, titled MAXIMUM EXPOSURE. The hero in this book is Finn McLain, who was introduced in DEEP BREATH. I don't know about you, but I would be thrilled if this series was known as SG-INFINITI! Anyway, I was extremely fortunate in getting an early peek at this one and have posted a review below. Alison has also been so kind as to offer a copy for giveaway here - those detatils are also below.
Check out the blurb -
Finn McLain is no stranger to unusual assignments. But the gorgeous stranger who just asked him to photograph her for an erotic art exhibit—that's definitely a first. Finn came to Miami to dig into the personal life of boutique manager Roland Green for a lovesick gallery owner, and hadn't planned on sticking around. But the boutique's owner, Olivia Hammond, has just made him a proposal that's as hard to ignore as Olivia herself. She's got caramel-kissed skin, a body that makes grown men tremble, and a wild sideline as an exhibitionist. Ooookay. Yet despite her willingness to "let people look," Finn's convinced there's a hell of a lot Olivia's not revealing. And that's the most intriguing prospect of all…
Olivia has never been shy about using her sexuality to get what she wants. But then, she's never wanted a man quite the way she wants Finn. What he thinks about her shouldn't matter, yet it does. Through every candid photograph and every heated encounter, Finn is getting closer, intent on getting beneath her shell—and for once, Olivia is tempted to let him. But first they have to contend with the fact that Finn's simple investigation into Roland Green is getting dangerously complicated…and Olivia isn't the only person in town who's not what she claims to be.
In a city throbbing with sex appeal, two wary lovers are about to play the ultimate game of show and tell, where temptation is raw, wild, and hot enough to make you sizzle…
And if you really want to be tempted, here's a great
excerpt
.
My review:
Finn McLain is in Miami on a private investigation stint when he is approached by a breathtaking woman. When she offers to hire Finn to take some erotic photos of her for a friend's gallery, he is instantly intrigued. Olivia Hammond is the owner of a trendy boutique and it turns out that one of her managers, Roland Green, is the subject of Finn's investigation. It's apparent to Finn early on that both have secrets, and while a portion of Roland's secrets were easily figured out, it's the ones that Olivia is keeping that have Finn wanting to stick around. She is deliberately brazen about flaunting her body and equally deliberate in attempting to hide the pain that is shadowed in her eyes. Their photo shoot is especially revealing as Olivia's sultry passion and the hidden pain from her past make for stunningly candid shots. The two soon become intimate and their hearts are quickly, although somewhat reluctantly, involved but when Finn's investigation of Roland takes an unexpected twist, neither is prepared for the consequences.
With each and every new Alison Kent release, I feel certain that it is her most intriguing and sharpest release to date. MAXIMUM EXPOSURE is no exception. This book has teeth. Finn and Olivia don't simply become romantically involved, there's a connection of hearts and souls; their emotions are meticulously written. There's no fluffy sweetness or unnecessary filler in this book, just the rich goodness you would expect from Alison Kent. There is a secondary romance involving Roland Green that is a bonus of sorts, possibly a tad more erotic than that of Finn and Olivia, and very satisfying. MAXIMUM EXPOSURE comes with my absolute highest recommendation.
And now for the giveaway (Note: US addresses only for this one, please). If you'd like your name in the draw for a copy of MAXIMUM EXPOSURE, please leave a comment here and let us know what your favorite Alison Kent book is, or your favorite character, scene, etc. My favorite remains The Beach Alibi, but it's followed closely by oh, say, everything else she's ever written! If you've been unfortunate enough to have never read any of Alison's work, that's ok too, just say you'd like to start with this one! The winning name will be drawn by Alison herself on Sunday, November 23.
Here's a quick link to
Amazon
so you can order your own copy - or you can be kind and remember the romance readers on your holiday shopping list!
As always, thanks so much for stopping!
Laurie