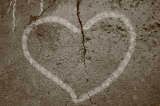 Yesterday was the most heartbreaking day we've had at our house for a very long time. We had to have our dog Fred put to sleep. Freddie was approximately 11 years old and had been with us for 10 years. We got him through the Ohio Basset Rescue after the death of our first basset hound and we loved him from the very first day. Fred hadn't felt good for the last couple of weeks, had lost a considerable amount of weight and was obviously in pain. We took him to the vet last week and he gave him a cortisone shot and some pain pills, thinking he had arthritis in his spine, not uncommon in older bassets. When he continued to fail, they did bloodwork and after it didn't show anything significant, did an x-ray where they found a softball sized tumor in his bladder. This explained the repeated urinary tract/lack of control problems that were also thought to be age-related. According to Doc Franks, this type of tumor is always cancerous and would grow back if removed. At Fred's age, surgery really wasn't an even an option. We decided that he had suffered plenty and silly as it may sound to some, he had a look in his eyes that seemed to say that he'd had enough.
We will miss our Freddie desperately and certainly wish we'd had more time with him. Many of you know about all of the kittens we've "fostered" at our house over the past couple of years - of all of us and our cats, Fred was always their favorite and he seemed to always have a cat in his dog bed with him. Our cat Lottie especially loved to be close to him.
All of you who have a dog - maybe you'll take them for a walk in memory of Fred and make it all about them, letting them sniff as much as they want.
Laurie