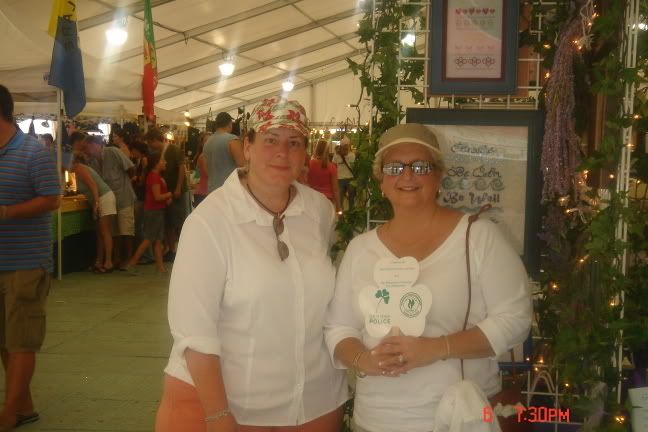 Goodness, we had a great time! Except for it being hotter than blue blazes once again. We were very fortunate that the humidity levels weren't as high as last week, but I still sweat more yesterday than I have the entire summer! My Lady Speed Stick was working overtime yesterday - which is more than I can say for some people there! I even wore a hat to keep the sun off my face - can't tell you the last time I wore a hat, but it's been years. I wish I had a cute little straw hat, but had to settle for a ball cap instead.
We ate some beer battered fish and chips that were so delicious that I'm sure that any I eat in the future won't begin to compare. Three of us shared a beer - we're not big drinkers, but the beer was good and cold and went down easy! We shopped, watched The Prodigals perform; I'll admit to being a little disappointed in their performance, and we watched some teen Irish dancers - their costumes were breathtakingly beautiful - and one of the young men who danced recently competed in a World competition where he placed fourth - incredible. I wish I had been close enough to get a good picture, but the crowd at their show was huge. As soon as they left the stage and their crowd left, we rushed in to get our seats for the Gaelic Storm concert - we were able to get in the fourth row and saw an excellent show. They are great fun to watch and I'll probably be listening to my Gaelic Storm CDs all day now!
I've put up a picture of Gaelic Storm and one of Carla and I that Lindsay took in one of the shopping areas. Carla and I have been friends since driver's ed class in high school - we now work together every day, work out together three times a week and hang out together besides. Sounds like a lot of togetherness, I know, but we just have an easy, comfortable friendship and have fun together.
I hope everyone had a great weekend. I hope to be posting a book review or two in the next couple of days - Toni Blake's Swept Away is a fun, sensual read and Out Of This World by Jill Shalvis is also very good - it is written first person which I tend to avoid, but it is very well done with Jill's excellent sense of humor and I enjoyed it. I'll be chatting about both of them.
Have a great Monday!
Laurie