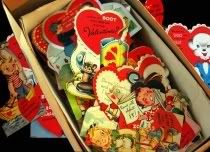 Wishing you all a wonderful Valentine's Day! Does anyone have special plans? Tim and I do goodie bags for the girls and their boyfriends and that's about it!
The law office where I work is in a building that has a bank on the first floor. When I had first started here (before hub was in the picture!) there was a guy that worked as a teller at the bank who asked me out a couple of times, and not being interested in him at all, I gently refused. Valentine's Day came and he presented me with a box of chocolate drops with dark chocolate. Not a fan of chocolate drops or dark chocolate, I took them home and gave them to my uncle, who loved both! He was thrilled with them.
I think my favorite Valentine's Day celebrations were when I was in elementary school and everyone decorated a shoe box with construction paper, doilies and stickers, cutting an opening in the top so everyone could put your Valentine's in the box. It was so exciting to open that box and see if your favorite friends gave you a "special" Valentine! Remember the heart-shaped suckers that were sold by the strip?
To honor St. Valentine, I have one more box loaded with romance novels of every kind. It's one of the U.S. Postal Service's "if it fits, it ships" large boxes. I can't begin to tell you what's in it because it's already packed up and ready to go. There's likely trade romances, maybe a couple of ARCs, series romance and mass market - it's a real mix! I'll draw the winning name this Friday, Feb. 18th.
Share something romantic that you've done for Valentine's Day, or something special you've received, something awful you've received, or heck, just say you're interested in the books - and you'll be entered! What are your favorite Valentine memories?
Have a great Valentine's Day!!
Laurie