The Best Part About Being An Author? By: Marie Force
So what's the very best part of being an author? The readers of course! I love my readers! I have been so lucky to meet so many great people through my books. Some of them have become close friends. One of my readers has even become a Beta reader, which means she reads for me before I submit to my agent or editor.
After Love at First Flight was released last summer, I heard from readers overseas who had bought L@FF or Line of Scrimmage. These were women who lived in France and Germany and numerous other non-English-speaking countries who were buying the books, even though they haven't been translated into their languages. One of them told me she reads American romances to improve her English. I love that!
Laurie has told me more than once that Line of Scrimmage is one of her all-time favorite books. I told her yesterday that hearing that from a reader never, ever gets old. That something I wrote made such an impact that a reader still thinks about it almost two years later? How could that ever get old? With each new book comes more readers and new friends.
When we were growing up, most of us wouldn't have dreamt of contacting a favorite author. It just wasn't done the way it is now. We are easily accessible to our readers who can send us a quick e-mail or friend us on Facebook and keep in regular touch. This interaction has become an essential part of my writing routine, and I enjoy every email and every comment from readers. So please, keep them coming!
Tell me what you think about contacting your favorite authors. Something you've done or something you'd never do? If not, why not? Tell your thoughts on the matter, and I'll give a copy of Fatal Affair to one respondent. Thanks so much for having me back again. Laurie!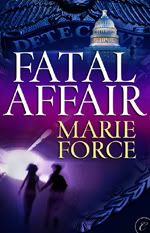 About Fatal Affair:
On the morning of the most important vote of Senator John O'Connor's career he is late—again. His best friend and chief of staff, Nick Cappuano sets off to O'Connor's apartment expecting to roust him from bed and hoping he is alone. But what Nick finds is that O'Connor, the handsome, amiable Senator from Virginia, has been brutally murdered, and Nick's world comes crashing down around him. Complicating the disaster, the detective assigned to the case is none other than Sam Holland, Nick's one-night stand from six years earlier, the woman who broke his heart and haunts his dreams. With six years worth of unfinished business hanging between them and more than a few scores to settle personally and professionally, Nick and Sam set out to find the senator's killer while trying—and failing—to resist the overwhelming attraction between them that seems to have only grown over the years.
It soon becomes clear that the senator's past holds secrets that not only led to his death but now endanger Nick and Sam as well. Working together to find a killer and to rediscover the love they thought they lost long ago, they must put the past behind them and build a future that offers a world of new opportunities for both of them—including an offer from the Virginia Democrats for Nick to finish the last year of John's term.
And about me:
Marie Force's first romantic suspense, FATAL AFFAIR, will be out June 21, 2010 from Carina Press. Book 2 in the Fatal Series, FATAL JUSTICE, is coming soon from Carina. She is also the author of LINE OF SCRIMMAGE and LOVE AT FIRST FLIGHT. Of LINE OF SCRIMMAGE, Booklist said, "With its humor and endearing characters, Force's charming novel will appeal to a broad spectrum of readers, reaching far beyond sports fans." Wild on Books said, "LOVE AT FIRST FLIGHT by Marie Force is most definitely a keeper. It is an astounding book. I loved every single word!" A third contemporary, EVERYBODY LOVES A HERO, is due out Feb. 1, 2011. Since 1996, Marie has been the communications director for a national organization similar to the Romance Writers of America. She is a member of RWA's New England, From the Heart and Published Author Special Interest Chapters. While her husband was in the Navy, Marie lived in Spain, Maryland and Florida, and is now settled in her home state of Rhode Island. She is the mother of two children and a feisty dog named Brandy. Find her at
http://www.mariesullivanforce.com/
, on her blog at
http://mariesullivanforce.blogspot.com/
, on Facebook at
www.facebook.com/pages/Marie-Force/248130827909
and on Twitter at twitter.com/MarieForce. Marie loves to hear from readers. Contact her at
marie@marieforce.com
.