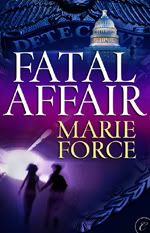 Author
Marie Force
has a brand new release from Carina Press - FATAL AFFAIR - and while I have a copy on my Kindle, I (sadly) haven't yet found the time to read it. Given Marie's past works, I know it promises to be excellent! You'll find an excerpt on Marie's website. Equally exciting is learning that another book will soon follow, titled FATAL JUSTICE! Marie will be guesting here tomorrow and I hope you'll all stop back and show her a warm welcome. I know it's difficult for some to blog hop during the day, but we'll pop in and out through the evening. Marie is offering a download of FATAL AFFAIR to one lucky reader, so be sure to stop back! (thanks, Marie!) You may remember that I've chatted about Marie's earlier print release, LINE OF SCRIMMAGE, without a doubt one of my favorite romances, which was followed by LOVE AT FIRST FLIGHT, also a very satisfying read. I'm thrilled to have Marie as a guest again!
On the morning of the most important vote of Senator John O'Connor's career he is late—again. His best friend and chief of staff, Nick Cappuano sets off to O'Connor's apartment expecting to roust him from bed and hoping he is alone. But what Nick finds is that O'Connor, the handsome, amiable Senator from Virginia, has been brutally murdered, and Nick's world comes crashing down around him. Complicating the disaster, the detective assigned to the case is none other than Sam Holland, Nick's one-night stand from six years earlier, the woman who broke his heart and haunts his dreams. With six years worth of unfinished business hanging between them and more than a few scores to settle personally and professionally, Nick and Sam set out to find the senator's killer while trying—and failing—to resist the overwhelming attraction between them that seems to have only grown over the years.
It soon becomes clear that the Senator's past holds secrets that not only led to his death but now endanger Nick and Sam as well. Working together to find a killer and to rediscover the love they thought they lost long ago, they must put the past behind them and build a future that offers a world of new opportunities for both of them—including an offer from the Virginia Democrats for Nick to finish the last year of John's term.

Amazon
has FATAL AFFAIR for download at a discounted price, so please go check it out. I 'm sure you all know that you can get Kindle for PC or iPod for free from Amazon, allowing you to download Kindle releases in a minute or two, and there are bunches of great books for free. I used the iPod app until I was fortunate enough to win a Kindle, and now I switch back and forth.
Please stop back tomorrow!
Laurie