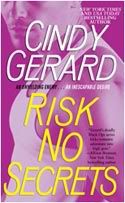 Cindy Gerard
has a new book releasing in just a few days, the fifth book in her exciting Black Ops, Inc. series, RISK NO SECRETS. I was very fortunate in getting a copy for Romance Junkies review. I've left no doubt as to my appreciation of Ms. Gerard's work in the past, and seriously doubt that I'll be doing so any time soon! I was also fortunate in having the opportunity to meet Cindy Gerard at the recent RT Convention booksigning in Columbus a couple of weeks ago. She autographed my ARC of RISK NO SECRETS - and was patient and kind as I tried to convince her to come to the Lori Foster/Dianne Castell get together in Cincy next month. I hope she'll consider it in the future!
Here's a blurb, a great
trailer
, and my Romance Junkies review for RISK NO SECRETS:
A RED-HOT ATTRACTION . . .
Twelve years of chasing bad guys didn't erase beautiful Sophie Baylor from Wyatt Savage's memory. If he had another chance, he'd never let her leave. So when she tracks him down from El Salvador and begs for help, he doesn't ask questions—he just goes.
STARTS WITH A TERRIFYING THREAT . . .
Sophie is grateful her daughter survived a kidnapping attempt, but she won't forgive herself until the girl who was mistakenly abducted is safe. Wyatt is the only man brave enough to take on the mysterious terrorists behind the crime—and the one irresistible man she wishes she had never let go.
. . . AND UNLEASHES AN UNFORGETTABLE ADVENTURE.
Sophie knows Central America's steamy jungles and sticky politics better than anyone. Yet she refuses to hide in fear. Then she becomes the enemy's number one target. Wyatt lost her once, and he won't lose her again—even if he has to fight, kill, or die to save her
.
My review:
They shared a past full of danger and intrigue. Sophie was the only woman Wyatt ever loved but he let her go twelve years ago so she could marry his best friend and former Black Ops partner. When faced with danger and intrigue once again and Sophie being divorced and available, both are helpless against a renewed attraction. Cindy Gerard's RISK NO SECRETS is romantic suspense at its best.
When the best friend of Sophie Baylor's adopted daughter is kidnapped after being mistaken for her daughter, she doesn't hesitate to call Wyatt Savage of the Black Ops. Sophie's ex-husband is Wyatt's former partner and is not the same man who swept her off her feet; his only concern now is with how much money he can make. Wyatt can't refuse Sophie's request for help. Past feelings don't stay in the past, however, and it doesn't take long for Wyatt and Sophie to explore the relationship they should have had years before. Wyatt's fearlessly determined attention to detail is extremely comforting to Sophie, as is his tender affection.
Wyatt's attraction to Sophie has always been powerful, and seeing her desperation to return this kidnapped child to her mother, he is determined to make the rescue successful and calls in the Black Ops team. Sophie's insistence on being involved in the rescue has him apprehensive, but he respects and appreciates her dedication to her friend. He lost her once and losing her again simply isn't an option.
I predict that Cindy Gerard's readers will simply love this fifth book in her Black Ops series. Visits from characters of previous books are a welcome addition and a secondary romance is especially satisfying. RISK NO SECRETS is fast-moving from the very start and maintains momentum throughout to a climactic ending. The action and suspense are impeccably written and I give this book a strong recommendation.
Can't wait? That's understandable - here's a link to
Amazon
so you can get your own copy!
Thanks for checking it out!
Laurie