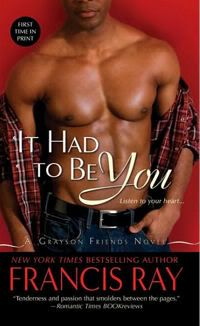 Francis Ray
is a new author to me, although she has an impressive bibliography on her website. I was excited to read IT HAD TO BE YOU for Romance Junkies review and am anticipating reading many more of her books.
Ms. Ray has a great
excerpt
on her website and I encourage all who enjoy romance to take a couple of minutes to check it out.
From Ms. Ray's website:
From New York Times bestselling author Francis Ray comes a dazzling new novel of the Grayson family and their friends—a duo destined to make beautiful music together...
IT HAD TO BE HER
Most musicians would do anything to work with the hot, young record producer known as "Rolling Deep." R.D. can pick and choose any artist he wants—and he wants Laurel Raineau. A classical violinist, Laurel plays soaring music that touches R.D. to his very soul. But the last thing Laurel wants is to work with someone whose exploits with the ladies appear in the tabloids every week.
IT HAD TO BE...WHO?
Not one to take no for an answer, R.D. keeps trying—and failing—to let Laurel know that he's not the player he's made out to be. So he introduces himself to her by his real name, Zachary Wilder, hoping to win her over. But it's Zach who falls under this beauty's spell. Now it's only a matter of time before Laurel learns who the man she's losing her heart to really is—but can she walk away from a passion that feels so right?
My Romance Junkies review:
She's a classical violinist with a humble modesty possessed by few young professionals. He has the reputation of being a top music producer whose name is associated with some of the biggest names in the music industry. He wants the opportunity to produce her next album, but his reputation also includes a constant following of media and adoring women, and she refuses to associate with him. It doesn't look like he stands a chance of getting close to her – or does he?
Zachary Wilder, aka Rolling Deep, wants nothing more than to produce the upcoming album for classical violinist, Laurel Raineau, but she won't give him the time of day. Her music soothes his soul and is a great source of comfort to him, especially after the recent loss of his father. Of course, her refusal to see or talk to him serves to make him that much more determined. When he sets up an "accidental" meeting with Laurel when she is vacationing, he does so using his real name, knowing that doing so could likely backfire. His relationship with Laurel moves with lightning speed which is surprising enough; the emotions Laurel brings out in him are especially unexpected.
Laurel takes her work very seriously and while her album sales aren't where she would like them to be, she's not willing to work with the notorious Rolling Deep, regardless of what he brings to the table. She goes on a vacation getaway and can't help but feel a little lonely among the loving couples at the resort. Perhaps a touch of melancholy made her vulnerable to the tender attentions of Zach, but when she discovers his true identity, she flees immediately and it appears that Zach has lost her forever. He has one more card up his sleeve and playing it will either bring her back to him or drive her away to hate him forever.
This was my first read by Francis Ray and I found it wonderfully entertaining. Laurel and Zach are both extremely likable characters and their families and friends are excellently written and consistently realistic. Knowing what Laurel's reaction would be upon learning Zach's identity filled me with dread, but her initial pain and their heartache in the aftermath are beautifully written and absolutely heartwrenching. Zach's reasons for wanting to produce Laurel's music were legitimate and personal, not simply about money and went far in making his deception forgivable. I highly recommend IT HAD TO BE YOU; I will be shopping for the three previous books in this "Grayson Friends" series.
I know you're going to want to get your own copy, so buzz on over to
Amazon
and grab this wonderful series - it will make for some good summer/vacation reading!
Thanks for taking a look - and special thanks to Francis Ray for sharing her writing talents with us!
Laurie