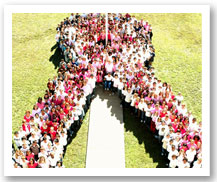 My family and I are participating in the 5K Race/Walk for the Cure this Saturday in downtown Columbus. Yes, we will be amongst the walkers - no racing for me! I think I could only run if someone were trying to light me on fire - and even then it would be a pitiful attempt. We'll be leaving for Columbus around 6:30 in the morning and our group will march off at 8:45. I think a quick trip to the North Market will be in order after the walk - it's a neat place to hang out, especially on Saturdays, with lots of vendors selling unusual and hard to find items, melt in your mouth sweet treats, international goodies and farm fresh produce.
Click
here
if you'd like to donate to Komen for the Cure through my fundraiser page! No amount is too small and any and all contributions are very much appreciated! My goal is small, only $100, and I've already contributed one-fourth of that myself!
Please keep all of the participants in your thoughts and prayers - most especially those who are still fighting the good fight and those who are survivors.
Thanks!
Laurie