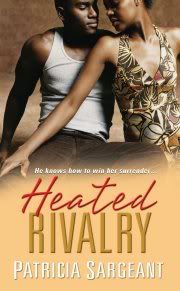 Please help me welcome
Patricia Sargeant
! Patricia will be popping in and out today to visit with us and answer your questions - so put your thinking caps on and let's have them! I've posed a few questions to Patricia to kick things off - here's our conversation:
I appreciate you taking time to guest here today, Patricia!
The pleasure is mine, Laurie. Thank you so much for inviting me to spend time with you and your community.
Can you share a little about yourself with the readers here?
I'd love to. I was raised in Brooklyn, New York. My husband and I live in Columbus, Ohio, now. Although I enjoy living in Columbus, I'll always consider Brooklyn home. Brooklyn's in the house!!! :)
I have three siblings who are all voracious readers. We're very close. In addition to reading, I love watching movies, jogging and pasteries. And ice cream. And Diet Mountain Dew. That's it. For now.
You now have four books and two anthologies available to your readers, is there any one that is your favorite? Any characters that become close to your heart while creating their story?
Oh, those are fabulous questions. Truly, all of my titles are favorites for different reasons and in different ways. I connect with the themes I explore. That's what connects me to the stories and the characters while I'm writing and after the stories are released. I think the themes I've addressed are ones with which everyone can identify.
The theme for You Belong to Me is family; how do you define family? Is your family a close knit group of people related by blood or marriage? Or do you cast the net a little wider to include friends? Or do you cast it even wider than that? On Fire's theme is trust. I don't think you can have love without trust. Sweet Deception's theme is identity. Do you define yourself or do you allow other people to define you? And Heated Rivalry's theme is self-worth. Do you know your self-worth?
Regarding characters, I love them all, even the ones who need to be smacked, like Harold, Ronald's brother in Sweet Deception. And Traci, Steven's problematic ex-fiancee in Heated Rivalry. They're not really bad; they're just troubled.
Can you tell us about what you're working on now?
I'd love to. Thank you for asking. I'm working on a contemporary romance trilogy featuring a fictitious National Basketball Association team. The first book, Fast Break, is scheduled for release in 2011. The theme is winning. I think to be a winner, you have to be willing to risk losing. With this trilogy, I'll introduce my contemporary romance pseudonym, Regina Hart.
Your characters have had a multitude of professions. How much research goes into each book? Do you enjoy that part of putting a book together?
I do quite a bit of research for my books. As you noted, most of the research is on the characters' professions and the location in which I'm setting their story. I do enjoy it - to a point. Let's not get carried away. :) The research supports the world building. For characters to be three-dimensional, readers need to understand them personally and professionally. They also need to be able to "see" them in their environment.
Some people don't think research is important for fiction. I vehemently disagree. Fiction must be based in fact to encourage readers to spend time in your world. For example, in On Fire, Sharon decorated her apartment with used furniture. Newspaper reporters don't make a lot of money. Trust me. I was a newspaper reporter. It would not have been realistic to put her in a swanky condo.
Are there any particular professions that fascinate you or that you may be considering for future characters?
Laurie, can you read my mind? LOL! Last week, I was talking with a psychology professor about the sports psychology field. I'm considering creating a sports psychologist character for a future book.
You work outside the home, a very busy woman! How do you find the time to write such well-rounded stories? I think I would find myself jotting notes all day for ideas I didn't want to forget (thank heavens for Post-it notes!).
Oh, Laurie! You and I are of the same mind. I used to use Post-It Notes. I recently got this cool cell phone with a Memo application. It's fabulous.
Thank you very much for your kind words about my stories, Laurie. I really appreciate them. Frankly, while on deadline, I don't get much sleep. I often stay up late to try to make my daily page counts. But it truly is a labor of love. I love my characters. I love spending time with them. I love helping them to grow and gain the courage to face their problems. It's very gratifying.
I know some authors use storyboards or 3x5 cards, notebooks, etc. to keep track of the layering in their books, can you share your method of keeping all of those details straight?
I've tried the index card method. I found it very helpful. But I'm most comfortable with a basic scene-by-scene, chapter outline. When I sit down to write, I open my manuscript outline file and review the scene I'm working on that night. My description includes the scene's date, time, location, characters in the scene, and each character's goal, motivation and conflict.
Are family and friends supportive of your writing?
My family and friends are very supportive of my writing. Their support and encouragement was crucial to my first publishing contract and is crucial to my motivation. They believe in me, encourage me and cheer me on. I'm very fortunate.
Laurie, thank you again for inviting me to spend time with you and your friends. I've had a great time.
Happy reading everyone!
Patricia is graciously offering a copy of TAILS OF LOVE to one lucky reader here - thanks, Patricia! To be entered in the draw, simply leave a comment, or even better, a question for Patricia! Good luck!