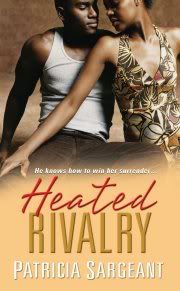 Patricia Sargeant
has a new release, HEATED RIVALRY, and I predict that her readers are going to fall in love with characters Steven and Valerie! Patricia is going to be my guest here tomorrow and she is offering a prize to one lucky reader! We are celebrating this latest release and invite you to stop back tomorrow.
He knows how to win her surrender
She Wants What He's Got

Valerie Parker is desperate to win the affection of her emotionally distant father and land a promotion at his advertising firm. Her biggest obstacle is junior partner Steven Crennell, a dazzling former NBA star who scores all the big accounts. But Valerie's attempt to outshine her charismatic rival unexpectedly leads her straight into his arms.
And She's Everything He Needs
Steven hopes to dispel the playboy stereotype left in the wake of his NBA career. Between battling his ex-fiancée and focusing on his work, finding his soul mate isn't on the agenda...until he meets his match in Valerie. And when competition leads to explosive passion, he learns that the game of life-and love-involve a very different set of rules.
My review:
Valerie Parker has fought tooth and nail in her father's ad agency, doing everything necessary to advance herself and convince him to give her her own account team. It didn't look like that was going to happen anytime soon, seeing how he's insisting that she share a prospective, very lucrative account with junior partner Steven Crennell. Steven's capability is inarguable; he's charming and extremely attractive. Add the fact that he's a former NBA star and the man is downright irresistible to many, Valerie's father included. Being forced to work together has Valerie and Steven spending considerable time together and the attraction between them is undeniable and intensely heated. Despite Steven's tender affections, Valerie remains deeply hurt by her father's repeated, almost blatant, rejection.
Steven wishes things were different between Valerie and her father, but he sees Garrison Parker as a mentor and doesn't want to interfere in their personal matters. His budding relationship with Valerie has him over the moon, but he's quickly brought down to Earth when Valerie makes a drastic, unexpected decision that has serious ramifications for both of them, professionally and personally.
Readers will quickly fall for Valerie and Steven. Steven is a former NBA star who suffered a career-ending injury. He is an incredibly likable hero, and despite the typical playboy reputation of sports stars, he has maintained a level head and has consistently given back to the community. Valerie continues to mourn the loss of her mother years ago because it seems that she lost her father at the same time. Despite working together, there is an invisible wall between them and Valerie's heartache at times seems almost tangible; her frustration and pain are excellently written. I highly recommend HEATED RIVALRY to all romance readers. I feel certain that you'll find it as emotionally satisfying as I did.
Here's a link to
Amazon
so you can grab a copy for yourself!
Remember to check back on Monday to visit with Patricia and for a chance to win a copy of TAILS OF LOVE, a multi-author anthology!
Have a great week!
Laurie