Roxanne St. Claire
has a new book, HUNT HER DOWN, releasing at the end of August '09. Yeah, I know, all of you romantic suspense lovers already know that, and boy do I ever hope you're super excited because this one is so very worth the wait! And those of you who appreciate hot covers, did you check this one out? Wow! This cover has been touched up to sizzle so much more than the cover on the arc - very nice! I was fortunate enough to snag HUNT HER DOWN for Romance Junkies review, but before you read my review, here's a couple of little nibbles from Ms. St. Claire's website to tempt and tease!
HUNT HER DOWN (Mini-Excerpt #1)
"Call it whatever you want." Dan lifted the hand holding the dossier and gave Max Roper's massive shoulder a decent smack. "Now go eat some charred meat like a good Rottweiler. You're missing the party and all the gossip about the reasons behind my first official leave of absence."
"A leave of absence?" Max's gaze slid to his shoulder. "With a Bullet Catcher dossier still warm from the Research and Investigative Department printer?"
The son of a bitch didn't miss a trick. "Just grabbed a file on an old friend I might look up in the Keys."
"You're going to Florida? Cori and I are going down to Miami tomorrow, to her place on Star Island. Why don't you stay with us for a few days?"
"And get psychoanalyzed by two of you? No thanks. Anyway, I'll be a couple of hours south, in Marathon."
"Doing what?" Max pressed."Fishing."
"You don't own a tackle box. What's going on down there?"
"Nothing." He hoped. "I'm taking some time to myself. See an old friend. Learn the difference between a trout and a…nother kind of fish."
"Who's the old friend?"
It was a waste of time to try and sidestep Roper. "A young lady I knew from my Miami days."
Well, she'd been young. But not exactly a lady.

HUNT HER DOWN (Mini-Excerpt #2)
Straightening, Maggie nodded to the stranger. "I'll be right there," she mouthed, taking the empty glasses from the table and wending around some chairs to make her way over.
As she did, he made no effort to hide his long, slow appraisal of her, the hungry gaze leaving a trail of heat and a thousand chills over every well-admired inch of her. By the time he got back up to her face, she'd reached the table, and slithered into the chair across from him.
"You want a Heineken?"
"Among other things." He added an imperfect, slanted, utterly decadent smile that took him from jaw-dropper to heart-wrecker in a pulse beat.
"Name 'em," she shot back.
He dropped his elbows on the table and folded his arms, a move that just emphasized the power and size of his shoulders, and leaned closer. She got a whiff of peppermint and spice, and dose of raw sex appeal, and a chance to see that, no, he hadn't shaved.
"Mrs. Smith. Are you married?"
His question was direct, simple, and delivered with a baritone that made her wonder if his chest rumbled when he spoke.
"Not anymore." She met him halfway across the table. "Are you?"
"Not even close."
"Well, now that we got that little detail out of the way, how about we finally introduce ourselves?" She held out her hand, ready for the first touch, bracing for the electricity she just knew was going to zing up her arm. "I'm--"
"I know who you are," he said. He didn't shake her hand. Instead, his long, strong fingers plucked at one of the silver bangles on her wrist. "You make noise when you walk, you know that?"
She just stared at him, mesmerized and unable to look away.
"I've been hearing you jingle in my sleep."
Oh boy. He was good.
"What's it sound like?"
"Trouble."

My (5 Blue Ribbon!) Romance Junkies review:
When former lovers Dan and Maggie are reunited after a thirteen year estrangement, old threats become new dangers and past secrets may hold the key to their future, in Roxanne St. Claire's HUNT HER DOWN.

As soon as Bullet Catcher Dan Gallagher hears that evil drug lord Ramon Jimenez has been released from prison, he knows there's a good chance he and his cohorts will be seeking out those who put him away. Although she didn't testify in court, Maggie Varcek played an intricate role in bringing Ramon down. It soon becomes apparent that Maggie's life is in danger. As Dan steps back into Maggie's life to protect her and they test the waters of a new relationship, he realizes that the secrets he kept from Maggie are small compared to the one she's unknowingly kept from him.
Maggie has tried to put the past behind her and keep it there, but she never forgot the man she loved so desperately all those years ago. When Dan Gallagher shows up at the bar she owns, she's instantly intrigued. She's upset over his earlier deceit, but her anger quickly dissipates as danger looms, threatening everything she's fought so hard to safeguard. Maggie discovers strengths she didn't know she possessed, and a passion for life and love that promise an exciting new future, provided they can stay alive.
The latest in the hugely popular Bullet Catcher series, HUNT HER DOWN is simply stellar. Roxanne St. Claire has given Dan an absolutely perfect match in Maggie. She is fiercely independent and strong, capable of taking care of herself, and readers will discover a side of Dan that will make them fall even more deeply in love with him. Through the reflections and recollections of Dan and Maggie, readers are provided heartrending back story. Both had difficult decisions to make and those decisions played a significant role in developing the lives they made for themselves and the people they became. Secondary characters are key to the story and the appearances of previous Bullet Catcher characters will satisfy even the most dedicated of Ms. St. Claire's fans. I give HUNT HER DOWN the highest of recommendations, especially for readers who've read the earlier books in this series. For readers who are new to the series this book stands firmly on its own, but for even greater reading enjoyment I suggest reading in order; I'm confident that you won't regret it.
I'll make it easy for you to get a copy of your own - go
here
to toss a copy in your Amazon shopping cart!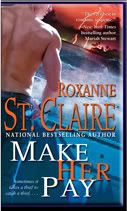 Releasing in late September '09 is the next Bullet Catchers installment, MAKE HER PAY, the story of Constantine "Con" Xenakis. I can't wait!! Constantine made appearances in at least two Bullet Catcher books and his role in HUNT HER DOWN has me extremely excited for his story. Want even more temptation? Get a closer look at MAKE HER PAY with this great
excerpt
!
Go
here
to pre-order MAKE HER PAY!
In perusing Ms. St. Claire's website I see that she'll be visiting Ohio in September as keynote speaker at the Central Ohio Fiction Writers conference - I couldn't be more excited! I don't attend the conference, but always try to make it to the booksigning since it's only 30 minutes from me. Maybe we can get her back to Ohio sometime for Lori and Dianne's event in Cincinnati, hmmm?
Thanks for stopping!
Laurie