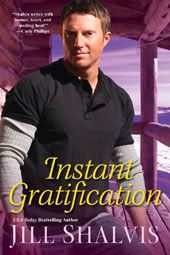 Jill Shalvis
has a new book, INSTANT GRATIFICATION, about to release (later this month), and for all of you who enjoyed INSTANT ATTRACTION, the first in Jill's "Wilder" series, you're going to love this next installment. If you haven't read INSTANT ATTRACTION, there's still time to snag a copy and catch up with the rest of us!
Blurb:
In Instant Attraction, Jill Shalvis introduced Cameron, Stone, and T.J., the sexy, daredevil brothers who run Wilder Adventures. And for Stone Wilder, the thrill of a lifetime is about to arrive in a surprising package…
THE DOCTOR IS IN DEEP
Wishful, California, is 3000 miles from Dr. Emma Sinclair's last job in a New York City ER. It may as well be another galaxy. Here, running her father's clinic for a summer, Emma treats bee stings, stomach flu, and the occasional pet cat. Plus, she has to contend with patients like Stone Wilder: gorgeous, laid-back, and irritating beyond belief. The man laughs at her. A lot. And Emma loathes him. All except that tiny part of her that wants to throw him on her examining table and break every doctor-patient rule in the book…
When Stone tries to help Emma learn to loosen up a bit, he pictures white-water rafting or scenic mountain hikes. Not a mind-blowing affair that shakes them both to the core. Emma's sure she has no place in a town like Wishful, but Stone knows different. Emma belongs here, in this town, in hislife. And convincing this strong-minded, stubborn, sexy woman of that fact will be a challenge no Wilder man could resist…
My review:
Dr. Emma Sinclair left a successful, satisfying job in a New York City ER to come to Wishful, California and cover her father's practice while he recovers from a heart attack. Preferring the hustle and bustle of the city to the laid back, slow motion pace of Wishful, Emma can't wait for her dad to get back on his feet so she can go home. Outdoor adventurer Stone Wilder makes no bones about wanting Emma, but she's determined to remain independently alone. Until she agrees to strike up an affair with Stone that is, no strings attached. Emma didn't come to Wishful with the expectation of getting to know her estranged father, getting to know and more importantly, starting to care for, Stone Wilder, and she absolutely did not expect to get to know herself as part of the equation.
Stone Wilder is instantly attracted to Emma Sinclair, sparks practically fly whenever he's close to the beautiful doctor. He has known and loved women for a long time so he gets the attraction and the sparks. What he doesn't get is why in the world she's in such an all-fired hurry to get back to New York. He's seriously interested in a long-term relationship, but convincing her to leave her cold, sterile NYC life is proving to be a challenge he's not certain he can win.
Like all Jill Shalvis books, INSTANT GRATIFICATION covers all the bases. Readers will laugh at times, feel giddy at others, experience heartfelt pain, and hold their breath (and then sigh) at the steamy, searing passion. Emma and Stone seem total opposites but truth be told, they both just want someone to love and to be loved in return. I feel certain that readers will agree that this is an excellent follow-up to INSTANT ATTRACTION and I highly recommend this book, and this series, to all romance lovers.
Want a copy? Buzz on over to
Amazon
- I would note that I recently received an email from Amazon indicating that INSTANT GRATIFICATION has been marked down by 27% - you can't beat that!
Jill has been kind enough to offer a book (winner's choice) from her backlist for giveaway. Leave a comment about Jill's website, her blog, her books, etc. and you'll be entered. I'll draw the winning name on Saturday, June 27. Good luck!
Thanks for checking out INSTANT GRATIFICATION!
Laurie