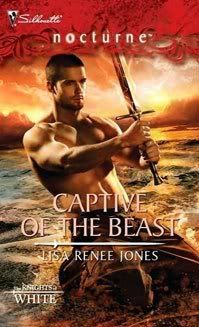 Lisa Renee Jones
has a new book in her extremely popular "Beast" series available. CAPTIVE OF THE BEAST has my favorite cover of the series - isn't it gorgeous? Regrettably, because of other review obligations I won't have time to read my copy until June.
eHarlequin had some great deals (they might still be running, I don't know) and I decided to buy two copies and do a giveaway with one. I consider Lisa a dear friend and want to grab a little extra attention for her work, and you all are so wonderful about checking out the authors that are chatted about here (and I thank you for that), so it's a win-win situation!
If you're interested, as you very well should be, leave a little flattery for Lisa and you'll be entered! You can talk about her website, her blog, her backlist, favorite book, etc. Pretty simple, right?
I'll let this one run until Wednesday, May 15. If you don't win, I hope you'll run out and grab a copy. Personally, I think in today's economy that books, especially series romance, pack a fair amount of punch for the money - and they're fairly easy to get your hands on.
Check out Romantic Times' 4 star review:
CAPTIVE OF THE BEAST (4) by Lisa Renee Jones: After Dr. Laura Johnson develops a vaccine to help a group of young people control their special abilities, she's held captive on the island where she works. The evildoer is a pawn of the Darkland Beasts, evil demons out to control the world. Knights of White William Rinehart and his team are sent to the small island on a rescue mission. Unfortunately, Laura's evil boss realizes what's happening, and one of Rinehart's own team is left behind on the island. Jones' story is an exciting continuation of the Knights of White series. Her strong writing and solid story will have fans eager for the next installment.— 4 Stars, Romantic Times BOOKreviews
Thanks for checking it out!
Laurie