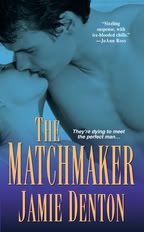 Jamie Denton's
THE MATCHMAKER has been reissued in mass market size. I was very lucky to get an arc from Jamie for review when this book was released before in trade size and I decided to repost my earlier review. If you missed this one the first time around, I strongly encourage you to pick up a copy. Romantic suspense just doesn't get much better than this.
Here's a blurb:
PICKING THE PERFECT PARTNER
The dead always have a story to tell. All he has to do is wait for the truth to be revealed to him. The living trust him with their grief – and their dirty little secrets. Only then can he set about playing matchmaker, uniting the dead with their true soul mates. . .for all eternity. . .
Exhuming a boy is the last thing former FBI profiler Greer Lomax wants to do. Just the thought of it brings on the panic attacks she's fought for two years. Now, as deputy sheriff, Greer Lomax is going to have to face her darkest fears. Because the body she's exhumed isn't alone. He's joined by a young woman whose name is on a missing person's list.
The one person Greer can call for help is FBI agent Ash Keller. Ash hasn't forgotten the hot blonde with the too-sexy smile and he hasn't forgiven her for leaving him behind when she quit the Bureau. Working the case sparks the attraction they've tried to deny for too long and unleashes a passion they can't control – one that could blind them to the most dangerous mistakes of the past.
My review:
Greer Garson Lomax is attempting to put her life back in order after a bungled FBI case that nearly killed her. It successfully destroyed her marriage to fellow agent, Ash Keller, and ended her stellar career with the FBI. She abandoned both to return to her hometown of Magnolia, North Carolina to heal, both body and soul. Barely maintaining a grip on her tortured sanity and physically exhausted, Greer buys and begins renovating a dilapidated old house into a bed and breakfast, and for some much-needed money and as a favor to the local sheriff, an old family friend, she agrees to take on the temporary position of deputy sheriff. When it looks as if a serial killer has targeted the sleepy town of Magnolia, flags are raised at FBI headquarters, and Ash soon arrives on the scene to check things out and to make sure that Greer is holding up okay. Seeing Ash after two years is a total shock to her system, and Greer isn't certain that she can handle the stress of a serial killer and her estranged husband at the same time.
Ash wishes he could take back his actions of two years ago, as he was the one who put Greer in the dangerous position that almost cost her life. He hasn't seen her in almost two years and is shocked at the gaunt, tormented, shell of a woman that Greer is now. He tries, and fails, to take over her investigation of the gruesome killings. Greer eventually concedes and accepts Ash's assistance in catching "The Matchmaker," the serial killer who apparently knows secrets from Greer's long-deceased father's past, and who may have now set his sights on her sister. Ash can only hope that Greer might also accept his still-strong love for her and give their marriage a second chance. But first they will have to catch the madman who is a deadly menace to the people of Magnolia; hopefully they can do so before he kills again. What they don't know is that he has his sights set on Greer.
Jamie Denton has given readers an incredible treat with THE MATCHMAKER. Greer and Ash are tortured souls, both holding Ash responsible for their pain. Greer's troubled relationships with her mother and sister are excellently written as neither of them can begin to understand the hell that she went through or why she has pretty much cut herself off from them and from life in general. Ash is eaten up with guilt over his failure to keep Greer safe from the lunatic two years before and is determined to be there for her this time. The secondary characters in this book are as real as the people in your own town, and their interaction with Greer and Ash is realistically written. The suspense is intense and spine-tingling, but it's not so gruesome as to be a turn-off. Don't miss this latest offering from Jamie Denton, especially if you like romantic suspense that will keep you on the edge of your seat.
If you are tempted to snag a copy for yourself, here's a link to
Barnes & Noble
to make it easy for you!
Thanks for checking it out!
Laurie