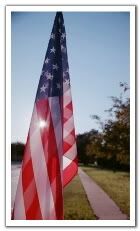 I'd like to wish all of my American friends a very happy Fourth of July! To my Canadian friends, a belated happy Canada Day! Does anyone have anything special planned? We're going to my cousin's house for a cookout Friday evening and then might go watch our city's fireworks. Most likely my cousin's husband will have some good fireworks since he travels the country for his business - they live in the country, so it won't disturb neighbors if we make some noise! I'll be baking a honey bun cake, always a huge hit. Our city is having its parade on Saturday afternoon because all surrounding communities are having theirs tomorrow and they want them to be able to participate as well. This parade is being touted as the biggest parade in our city's history, so it should be a good one. I love seeing the bands (this will be Kelsey's first year in a long time to be a spectator since she's not marching), the kids on their decorated bikes, the fire trucks, the veterans in convertibles and the baton twirling groups! When I was in elementary school I was a twirler - man did I ever feel special when we marched in parades!
Let us know what you're doing to celebrate. Do you have any fun traditions?
Have fun, but please be careful if you're out on the road.
Laurie
xo