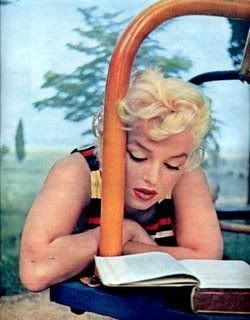 I seem to have been doing a lot of reading lately - and loving every minute of it! What have you been reading? Anything incredible? So-so?
Here are some of the books I've read recently (in no particular order) - forgive me if I've already chatted any of these up! I think it's obvious that I love romantic suspense. Read to the end, there's a contest!
Arianna Hart's Leap of Faith - I enjoyed this one very much - nothing sugary about this one, it's suspenseful and steamy.
Shelli Stevens - Dangerous Grounds and Tempting Adam - Both very good, I recommend reading them in this order.
Cathryn Fox - Pleasure Exchange - This one is steamy, even if the premise is a bit silly. I've read Cathryn before in the Alluring Tales anthology - I'll read her again, for certain.
Lorelei James - Long Hard Ride and Cowgirl Up and Ride - Erotic cowboy tales. These were a little more gritty than I typically care for - anal sex, spanking and M/M sex. I'm not passing judgement on anyone else's preferences, but I don't care for male on male sex in my romance.
Shannon Stacy - 72 Hours. I enjoyed this one very much and give it a strong recommendation. I've read one other book by Shannon Stacey, Twice Upon A Roadtrip, and enjoyed it as well. I'm intrigued by Forever Again and hope to buy it before too long.
Roxanne St. Claire's Take Me Tonight. This is the latest in her Bulletcatcher series, and it is a wonderful continuation. I've especially enjoyed this series, like so many others have, and give it high marks.
Pamela Clare's Unlawful Contact - Yes, I know I chatted about this one and reviewed it on behalf of Romance Junkies (see the archives for February posts) - but it's simply too good not to mention again. I can't wait for the next one in the series! Romantic Suspense just doesn't get any better than this. Amazon has suggested that because I enjoyed this book, I might enjoy Jordan Dane - has anyone here read her? I haven't, but I'm very curious now.
Lora Leigh's Killer Secrets - From her SEALs series - gritty and passionate, this one was a little on edge (for me) sexually. I enjoy these stories of hers so much though that I always get the next one with each release!
Toni Blake's Letters to a Secret Lover. My review for this one is below - it's very good.
Rachel Gibson's Not Another Bad Date - my Romance Junkies review will be coming up soon, hopefully in the next week. You should go ahead and pre-order this one, it's a beautifully written story with humor, pain, joy and passion. I've read everything Rachel Gibson has written and while See Jane Score is my absolute fave, there's not a bad one in the bunch!
A couple of others I'm hoping to get to soon are Susan Lyons' Champagne Rules and Touch Me. She has one coming soon, the fourth in the series, She's On Top (not positive of that title, but I don't have time to go doublecheck) - I loved the one book of hers that I read, Hot In Here. And I'll add that she has been blessed with great covers on all of these!
Upcoming reviews will include Erin McCarthy's Fallen, which I'm just starting, Janice Maynard's By Appointment Only, The Power of Love anthology by Lori Foster and 11 other excellent authors. Also, HelenKay Dimon's Hard As Nails, Nicole Jordan's To Bed a Beauty, and Shiloh Walker's Through the Veil.
So, please give a shout and let us know what you're reading, what you've loved or hated.
I'm hoping to go to the booksigning at RT in Pittsburgh this Saturday. It will be my first "big" booksigning and I'm excited. My plans aren't set in stone, but I'm hoping it will work out. If it does wotk out to go, my oldest daughter will go too, but she'll drop me at the hotel and then head off to some museums and art galleries while I go to the signing and hang out for a bit after. She's applying for jobs at a couple of them as she'll be graduating college in June, so she'd like to check them out.
The contest? I'll draw a name from everyone who posts here for the Lora Leigh (Killer Secrets) - the book does have a slight spine crease but is in excellent condition otherwise. If you want to comment about your recent or current reads but don't want in on the book draw, just say so, ok? That's fine.
Thanks as always for stopping - I hope you'll give us some book suggestions - or just say "hey" - I love having everyone here!
Laurie