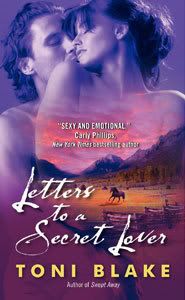 Toni Blake
has a new book, LETTERS TO A SECRET LOVER, releasing May 27th and I was fortunate enough to review it on behalf of
Romance Junkies
. I loved this book very much and as I say in my review, I truly think this just might be Toni's best work to date.
Here's a blurb about Lindsey and Rob and their sizzling story:
The last thing she needs right now is a man
Lindsey Brooks had it all—an awesome job doling out advice to the lovelorn, a fabulous high-rise apartment, and a to-die-for fiance. But then she got dumped—wearing nothing but a Kiss the Cook apron—and desperate to escape, she retreats to a tiny Montana town to reclaim a family treasure. She never dreamed anyone would try to stop her – or that he'd be sexy as sin.
Too bad she finds such a hot one …
Rob Colter isn't into relationships—but Lindsey sees Rob as the perfect guy to help her "get back on the horse." The sex horse, that is. Unfortunately, he comes complete with a mysterious past, which gets even more mysterious when she finds his passionate letters to another woman – whose name happens to be tattooed on his chest.
And too bad he has so many secrets …
Now Rob's dangerous past is about to catch up with them both. And if that's not horrible enough, Lindsey is falling for him – hard. For a girl who usually has all the answers, Lindsey is up to her neck in trouble.
My Romance Junkies review (I gave LETTERS TO A SECRET LOVER 4.5 Blue Ribbons!):
In Toni Blake's LETTERS TO A SECRET LOVER, Lindsey Brooks leaves the hectic pace of Chicago for the peaceful beauty of Montana to escape the scandal that she's unintentionally gotten herself into. And while she found the escape she so desperately wanted and needed, she also found something she wasn't even looking for –LOVE!
Lindsey Brooks, one-half of one of Chicago's most successful, high-profile couples, decides to seduce her stuffed shirt of a fiancé by serving him dinner in just an apron, only to have her picture snapped by a window washer hanging outside her high rise apartment. It is inevitable, with said fiancé mortified by the mostly nude photos of Lindsey floating around on the web and in the gossip rags, that their engagement would be broken. Lindsey flees for the quiet of Moose Falls, the small Montana town she visited as a child, where her late aunt owned a boat rental. Despite a rocky first meeting with Rob Colter, the gorgeous new owner of the boat rental, they're soon spending more and more time together. Lindsey is deeply curious about a hidden stash of heartfelt love letters she stumbles across, obviously written by Rob to an unknown woman; the same woman whose name is tattooed over his heart. She and Rob are both taken off guard by the attraction between them and when their relationship becomes intimate, it becomes clear that Lindsey isn't the only one with a secret.
Rob Colter sees Lindsey as a spoiled, shallow city girl who's more concerned with appearances and labels than appreciating her surroundings. When she asks to work with him at the boat rental to see the area as her aunt saw it, he is struck by her willingness to do whatever is needed without complaint, and soon finds her totally irresistible. When dark, dangerous secrets from Rob's past begin to surface, he believes the only solution is to leave Moose Falls, dismissing Lindsey and any future that they might have together, and thoroughly breaking her heart.
Toni Blake never fails to provide readers with a captivating story, intriguing lead characters, and secondary characters who are a charming bonus. Lindsey and Rob are written so realistically that you can't help but feel their every emotion and share their pain from past misunderstandings. I have read all of Ms. Blake's previous books and truly feel that this just might be her best work to date. I highly recommend LETTERS TO A SECRET LOVER to all romance lovers!
I hope you'll check this book out -
click here
to go to Amazon to pre-order a copy!
Thanks for checking it out!
Laurie