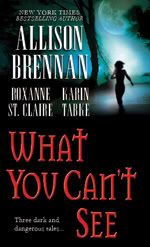 Karin Tabke
was kind enough to ask me to review WHAT YOU CAN'T SEE and trust me, I was thrilled! WHAT YOU CAN'T SEE is a paranormal anthology from Pocket with contributions from Allison Brennan, who is new to me, Roxanne St. Claire, with a continuation of her ever-popular Bullet Catcher series, and Karin, whose work I've chatted about here on several occasions. For non-paranormal readers, before you dismiss this book with a claim that you don't like paranormal, I would point out that it typically isn't my first choice either, but I loved this book very much. I'm throwing out a friendly challenge for you to give it this one try!
DELIVER US FROM EVIL
by
Allison Brennan
Demonologist Anthony Zaccardi works in conjunction with the Vatican. When he is summoned by a friend to come immediately to a small California mission that is home to a dozen emotionally troubled priests, he is disturbed to find the priests all brutally murdered and his friend near death. There remains a demonic presence at the mission that is so evil that Anthony can scarce get his mind around it. When Sheriff Skye McPherson arrives on the scene, Anthony is her first suspect. It isn't long before the evil that killed the priests worms its way into Skye's very being and she has little choice but to trust Anthony to assist with her investigation, and to keep her alive.
This story is the darkest and contains the vilest evil of the three stories. Anthony and Skye are intriguing characters. Anthony is practical and patient, wise beyond his years, having been reared with other "gifted" young men. Skye is a serious, self-sufficient woman who bears the emotional scars from a lonely, loveless childhood. Together they make an unforgettable couple, ready to take on any force that tries to come between them.
REASON TO BELIEVE
by
Roxanne St. Claire
Bullet Catcher Chase Ryker is sent to act as bodyguard to Arianna Killian. Chase doesn't appreciate the assignment or Arianna's "act" as a psychic and thinks she's exploiting those trusting enough to believe that she's in touch with their deceased loved ones. Chase's boss, Lucy Sharpe, has no doubt that her friend Arianna is the real deal when it comes to her psychic abilities, and she is determined to keep Arianna safe from a stalker who has been hounding her. When the stalker's threats escalate and Chase and Arianna are forced to remain side by side he begins to reconsider her capabilities, especially when she confronts him about troubling events from his past – events that he's never shared with anyone.
I've read negative comments from Bullet Catcher fans that have me shaking my head. This is an excellent story and I don't see how they could possibly be dissatisfied. Chase and Arianna are perfect for each other, even if it takes them a while to realize it. Chase refuses to believe in Arianna's abilities, but readers will see him slowly begin to question the things he witnesses. Arianna's patience as she gently tries to persuade him speaks volumes about the confidence she has in her abilities. I realize that this is a novella and Bullet Catcher readers want full-length stories, but I found it satisfying and complete without being rushed.
REDEMPTION
by Karin Tabke
When Zach Garrett's former undercover partner sets him up and attempts to kill him, he is shocked at the betrayal. But that confusion multiplies as he finds himself suspended in an unknown place, with the fires of hell nipping at his feet. It turns out he's being given a second chance but in order to take full advantage of it, he must convince his former fiancée, Danica Keller, to believe the unbelievable truth, that she comes from a lineage of Starkeepers and that she must willingly join forces with him or die. All of this expected from a woman who thinks that Zach betrayed her on the police force years before resulting in the loss of her job, her reputation, and her trust. What Danica doesn't know is that Zach betrayed her in order to save her life and was devastated by doing so, living with a shattered heart since. Convincing Danica of her destiny may be the least of Zach's worries when his partner returns on the scene in a form much deadlier than that of a dirty cop and more determined than ever to end Zach's life once and for all.
This story was (in my opinion) the most sensual of the three. Zach and Danica had been lovers and know what magic lies between them. Despite the crushing pain of their past, they love each other deeply, but with seemingly insurmountable tasks ahead of them, it's unclear whether they will survive to attempt a future together. Zach's near-death experience is wonderfully written and readers can feel the devil's very presence. Danica's pain at Zach's earlier betrayal is brought to light so excellently that I was incredibly aware of her painful heartache. I so badly wanted to see these two get together, but Danica's hatred of Zach runs so deep that it's not clear whether it will truly pan out.
I can't say that I have a favorite of the three stories – I enjoyed them all. I will say that I would have liked to see the second and third be just a tad longer, but only because I selfishly wanted more, not because I felt shortchanged or that they were rushed.
Thank you again, Karin for asking me to review this for you. You know how much I adore your books! Now I'm on pins and needles for MASTER OF SEDUCTION in June '08 and ITALIAN STALLIONS (with Jami Alden) in July '08!
Hugs,
Laurie