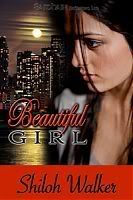 Shiloh Walker
recently had a contest where bloggers were chosen to read and review her latest release, BEAUTIFUL GIRL, available Jan. 29 at Samhain Publishing. I was thrilled to be one of the chosen few! This is my review:
Delilah "Del" Prescott's return to her hometown after a 12 year absence shouldn't be anything out of the ordinary. People come home for high school reunions all the time, right? But for Del, this return is monumental. Not only will she see friends and family for the first time in over a decade, but she'll also be facing the demons that traumatized and nearly killed her all those years ago. While Del's parents are model citizens in polite society, belonging to all the correct groups and serving on all the right committees, no one knows what unspeakable acts went on behind their closed doors. When Del ran away she severed all ties, leaving her home, family and friends behind. She was just a kid trying to survive in a very grown-up world. Also left behind was the only boy she ever loved, Blake Mitchell. Del can't help but think about Blake and wonder what he has made of himself; did he miss her when she left or was she quickly forgotten?
Blake has had to face his own devils. Running wild after Del left town, he barely survived. He was involved in a car accident that took the life of his best friend. The hospitalization after that accident was where it was discovered that he was in the advanced stages of Hodgkin's disease. After a long, difficult battle with chemotherapy and radiation, his recovery was complete, although he was left bald from the intense treatment. When Blake first runs in to Del, he barely recognizes her. Gone is the girl with bouncing blond curls and a shining smile. In her place is a young woman with dark hair, sexless clothes, and troubled eyes. Being a deputy sheriff, Blake has seen his share of victims and immediately recognizes Del as being one. His first instinct is to find out what has happened to her and to protect her. It isn't long before he realizes that his old feelings for her are still there. He may be up against his most difficult opponent ever in trying to convince Del that she is worthy of a future filled with love and happiness. All of that soon takes a backseat to keeping Del safe when it becomes obvious that someone isn't pleased to have her back in town.
When I first started reading this book, I thought it was going to be another sweet story about teen sweethearts who are reunited as adults. I was mistaken. The storyline goes way beyond sweet, delving into a number of adult issues and the emotional trauma that goes along with them. Del and Blake had a young love that was never forgotten; they have been to hell and back yet never stopped thinking about each other. Either of them could have developed a dark brooding attitude, but their drive and determination was just too strong. Secondary characters include family and friends who add sweetness, camaraderie and reality in keeping this story bright and fresh.
I have no hesitation in recommending this book. Shiloh Walker has done an excellent job of balancing a multitude of emotions without letting them bog her story down. Readers will cheer for these characters while understanding their hesitations. While there are an incredible number of Shiloh Walker books to choose from and yes, I've read several of them, I'm the most intrigued at the moment by FOR THE LOVE OF JAZZ and ONE OF THE GUYS and expect to get my hands on them very soon! Take a few minutes and browse Shiloh's website, I guarantee you'll find something there that tempts you too!
Click here to pop over to
Samhain
to get your own ecopy!
Thank you, Shiloh, for allowing me to review BEAUTIFUL GIRL for you!
Thanks everyone, for stopping by!
Laurie
(Coming very, very soon is a review for BEAST OF DESIRE by Lisa Renee Jones!)