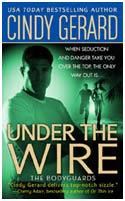 Cindy Gerard's Bodyguard Series offers up intrigue, suspense, and heartpounding passion. I have read all but one of the books in this series and have loved each and every one. I have to be honest with you and say that the upcoming May '07 release of INTO THE DARK is the one I'm anticipating the very most - Dallas and Amy have had me rooting for them for two books now!
Here is my Romance Junkies review for UNDER THE WIRE:
With seventeen years separating an exciting love affair to present time, can a former Special Forces soldier and a dedicated nurse attempt to put past hurts and misunderstandings behind them and find their way to a future together?

While Lily Campora, nurse for Doctors Without Borders, works in the damp, dark jungles of Nicaragua, she eventually finds herself discouraged by the death and destruction that she and her medical team face every day. When a fellow nurse, who is a dear friend, is killed in a helicopter crash, a flight that Lily should have been on, she is stricken with guilt. When Lily meets a handsome young soldier, Manolo "Manny" Ortega, that same evening at a dinner hosted by a general in the Nicaraguan Army, she feels an immediate attraction, and despite her initial reluctance, she gives in to unexpected desire and the two begin a secret love affair. The affair ends almost as quickly as it begins a few nights later, with Lily being called away in the middle of the night and then told that Manny has died. Seventeen years later, Lily learns that Manny is very much alive, and working as a police detective in the United States. When serious threats are made against someone especially dear to Lily, she knows the only person she can turn to for help is Manny, although she is confused over why he never searched for her when he came to the states.
The moment freedom fighter Manolo "Manny" Ortega first sees Lily, he is determined to get to know her and learn the reason for the haunted look in her eyes. Despite her being a few years older than him, he immediately connects with her, telling her things about himself that he has never told anyone, and quickly falls in love with her. When Lily quietly leaves him in the night, and he is subsequently taken away, shot and beaten, and left for dead, he is certain that she has betrayed him. Manny never forgot Lily; his hatred of her seeming to strengthen his motivation to fight for his life and survive. When Manny is approached to help Lily some seventeen years later, with Lily literally begging him herself, he cannot refuse, although he still isn't convinced that Lily wasn't the one who betrayed him all those years ago.
Cindy Gerard has written a wonderfully suspenseful book with UNDER THE WIRE. Lily and Manny are both extremely likeable characters, whose emotions and beliefs are excellently and realistically written. Locations and settings are described with absolute clarity, taking readers into each scene with the characters. Secondary characters, with their unique personalities and relationships, add a great deal of interest and intrigue to the story, past and present. Frequent flashbacks take readers into the past and go far in interpreting the lives and personalities of Lily and Manny. I have read all but one of the previous books in this series and have enjoyed each and every one; UNDER THE WIRE is no exception. These books are a real treat when read in order, but each capably stands on its own. I give a high recommendation for this book, as well as the previous books, to all readers who enjoy riveting romantic suspense.
Check out Cindy Gerard's very cool website
http://www.cindygerard.com/
- if you'd like to go to Amazon and order your own copy, here's a link:
http://www.amazon.com/o/ASIN/031298104X/ref=s9_asin_image_1/103-2381367-0694212
Thanks for checking it out!
Laurie