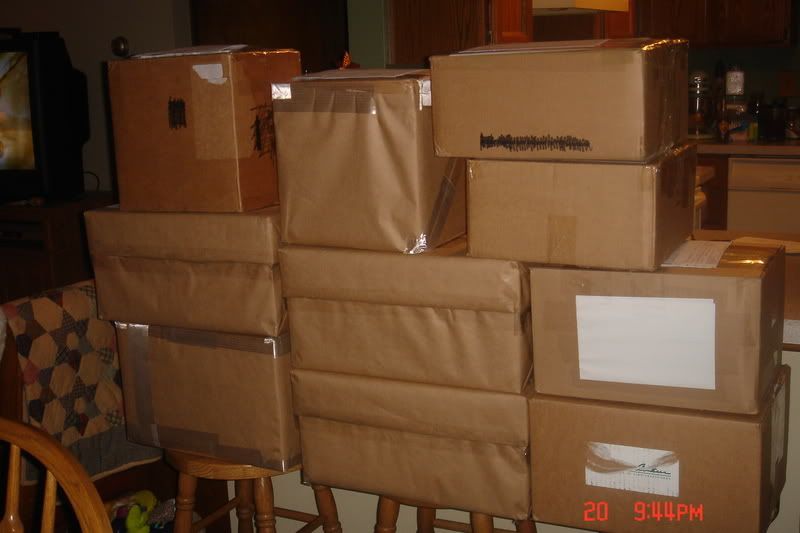 I have finally had to face the fact that the holidays are coming at mach speed. Our town's Christmas parade was yesterday - cold, which is acceptable for a Christmas parade, but the rain/snow mixture sucked big time. It was a fun parade with the high school marching band (Kelsey froze her damp patootie off), girl scout and boy scout troops, dance troupes, baton twirlers, fire trucks and police cars, horsedrawn wagons and carriages, and of course, Santa and Mrs. Claus. It was great fun, despite the lousy weather. (Kelsey is the flutist in the middle of the bottom pic.)
Add to that the fact that Lindsay came home today after her last exam; she'll be home until New Year's Day. I'm excited to have her home for a nice, long while. I'm giving the girls five days to get along before they have their first argument. Kelsey isn't quite that optimistic, and her estimate is three days. :(
What is everyone doing for Thanksgiving? I hope that no one is having to spend it alone or at work. I have two cousins who have always been like sisters to me; they both live in big old farm houses and they each have our family with theirs, taking turns at each other's house every other year. There are usually friends or other family who might not have anywhere to go, and we've had upwards of 30 people before. It's always a great time with family, friends and good food. My wish is that you all have much to be thankful for and that you have a warm, safe holiday. Please be careful if you have to be out on the road.
My troop packages are being shipped out to Iraq, Kuwait and Afghanistan tomorrow. I thought everyone might like to see a couple of photos - the one on the right is approximately two-thirds, maybe a little less than that, of what was shipped, spread out on my dining room table. The one on the left is of ten of the boxes that are ready to ship. I ran out of packing tape, but there are three more ready to go as soon as I'm able to tape them up. This project was hugely successful and I was repeatedly overwhelmed by the interest and support it received from the romance community. Thank you again to everyone who donated or participated in one way or another, I can't begin to thank you enough.
Thanks so much for stopping by!
Laurie