Look at all of those beautiful boxes!! They are crammed full of goodies that were collected at the Reader/Writer Get Together together in Cincinnati to be sent to servicemen and women serving in Iraq and Afghanistan. This is double the amount of boxes that we've ever shipped out at one time before. Romance readers are without a doubt the most beautiful bunch of women you could ever want to know!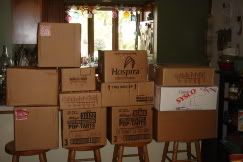 Those who preferred to not bring tangible items donated cash and checks to assist with shipping, and I have no doubt that every penny will be used to ship these bad boys!! If not, I'll use any leftover funds to shop for more goodies and ship another box.
Lindsay helped me pack the boxes on Saturday and Sunday and we both had fun doing it together. We talked about how good it feels to do something nice for others and how fortunate we are to live in the wonderful country we do and how thankful we are for everything that we have.
This effort has nothing to do with politics. I don't care about anyone's choice of political party or who agrees or disagrees with our leaders, I simply want the young men and women who are fighting this war to know that their fellow Americans love them and support them as they work, fight and sacrifice to keep us safe and to make our world a better, safer place.
Thanks again to everyone who generously opened their hearts and wallets!
Hugs,
Laurie