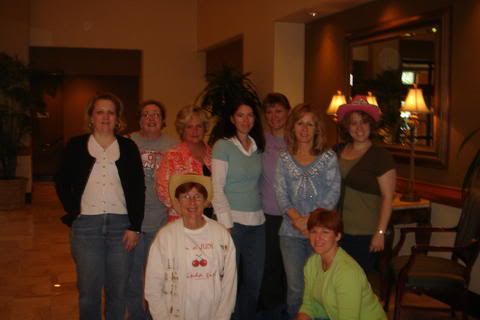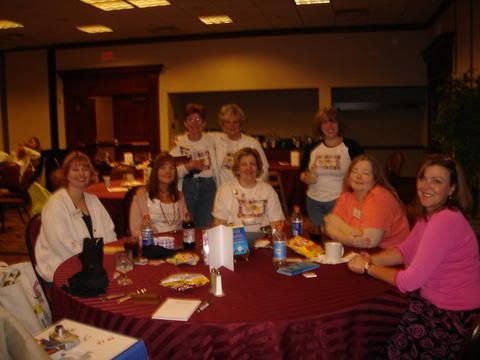 I'm a little behind in posting about the wonderful time that was had at the Reader/Writer Get Together last weekend. Between my oldest daughter coming home from college for the summer, getting my youngest daughter ready to leave in the morning for NC on vacation with a friend, and helping my boss get things in order so he can leave for a three week vacation tomorrow, my life hasn't been my own. I'm so far behind on book reviews that it isn't funny. The powers that be at Romance Junkies are probably about ready to sever all ties and set me free.
Back to the get together, the top pic was taken after breakfast Sunday a.m. as we all prepared to head home and the bottom one was taken during a little down time on Saturday afternoon. We spent a great deal of time visiting, talking books, movies, men (be they hunky or not), children, and of course there was the requisite amount of laughing and giggling. Attendees came from as far away as Nevada, Wisconsin, Illinois, Maryland, Tennessee and the Carolinas. Some were fortunate enough to live minutes away; I had a two hour drive, very comfortable for me.
There were several excellent causes benefiting from the weekend. First and foremost was the Battered Women's Shelter at the YWCA of Hamilton County, Ohio, for which (I believe) close to $3,000.00 was raised (I haven't heard the final numbers). Donations were also taken for the Eyes for Josh program
http://www.eyesforjosh.com/
- Josh is a two year old boy who was born without his left eye; his right eye has had to be removed due to glaucoma. Josh's mother is raising money for prosthetic eyes for him; their insurance company won't pay for them, deeming them to be "cosmetic" - I believe that over $400. was raised and boxes and boxes of books, etc. were contributed by various authors in attendance. Josh's mother, Christie, is taking monetary donations as well as autographed books, totes, or any other item that she can sell on eBay. I hope you'll take the time to check this special little boy out. The third outstanding cause is near and dear to me as it is the program that I typically run, and that is troop donations. Attendees brought an abundance of items, so much that my car was loaded to the gills with bags and boxes and I have about $200. for shopping/shipping. I have a feeling that given the amount of goodies I have piled up in my dining room right now, I'll be using all of the money for shipping.
Anyone who wasn't able to attend, I do hope that you might attempt to attend next year. It is a very casual weekend filled with friends, old and new, many very patient and kind authors, and it is all done in the guise of helping others. I personally found that it helped me too, providing a couple of much-needed mental health days!
xo,
Laurie