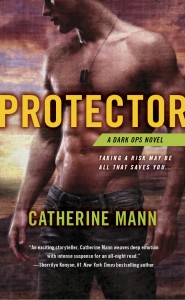 Author
Catherine Mann
has been a long-time favorite of many romance readers, especially those who (like me!) love romantic suspense. Her Dark Ops series has had hit after hit and I was fortunate enough to get PROTECTOR for Romance Junkies review. I'm itching to get my hands on UNDER FIRE and GUARDIAN, the subsequent two books in the series. I was able to meet Catherine Mann last fall at the COFW booksigning in Columbus. My dear friend Judy came especially to see Cathy (they're old friends and Judy can call her Cathy) - so the evening was a win-win for me to see Judy and meet Catherine at the same time! She's a sweetheart and I was pleased to have met her. Check out the blurb and review for PROTECTOR below, then read on for the giveaway - I have two books up for grabs for one lucky reader here.
The blurb:
TRUST, LOVE …AND LIES.
After barely surviving enemy torture, Captain Chuck Tanaka doesn't trust himself to do more than ride a desk—but new orders leave him no choice. Assigned to the investigation of a mob boss whose luxury cruise ship is reportedly a hub for terrorist activity, Tanaka goes undercover. His target: JoLynn Taylor, the mob boss's daughter.
As a child, JoLynn saw her beloved uncle murdered. Since then, she's stayed far away from her father's crooked empire. But when he falls ill, she returns, hoping to mend the gap between them. Instead, she finds herself on the run, one step ahead of unknown enemies. The only thing keeping her alive is the man she knows as Charles Tomas, the only man she's ever been able to trust.
Unfortunately, he's also the man determined to destroy her family…
My (4 blue ribbon) Romance Junkies review:
How do you like your romantic suspense? If you prefer sensual, intelligent, and clever characters and an abundance of exciting action, PROTECTOR is the story for you. Author Catherine Mann knows her way around a thrilling romantic suspense and PROTECTOR is no exception

.
Dark Ops Squadron's Chuck Tanaka is hesitant about going back on assignment, after being captured and tortured on his last mission, nearly costing his life. His technical skills are much-needed on this operation and he eventually agrees. Keeping an eye on a beautiful woman aboard her father's cruise ship shouldn't be too difficult, right? Taking an undercover job as a blackjack dealer, Chuck finds himself in close contact with JoLynn Taylor. Before long, hidden surveillance is not enough and it becomes obvious that someone is after JoLynn. Her life is in serious jeopardy unless Chuck can keep her safe as they go on the run.
JoLynn has been away from her father for several years. Having witnessed her beloved uncle's execution as a child, she has no desire to be near her father and his continuing mob lifestyle. Her interest in Chuck is instantaneous and intense. After her life is repeatedly threatened and she surprisingly learns his true identity, there isn't time for much more than keeping themselves alive.
Catherine Mann has the alpha man down pat. She never fails to provide readers with capable, competent characters, an interesting storyline, and enough action to keep the story moving. A secondary romance adds even more richness to the reading experience. PROTECTOR is a wonderfully exciting book and I urge anyone who enjoys romantic suspense to check it out.
Now for the giveaway! I will give one lucky reader my review copy of PROTECTOR together with a fully autographed print copy of LOVE BITES, the anthology of this year's Lori Foster/Duffy Brown Reader-Author Get Together in West Chester, Ohio. This book was available in print at this event, although it is available at online bookstores as an ebook. All proceeds from this book benefit the Animal Adoption Foundation, a no-kill shelter located in Hamilton, Ohio.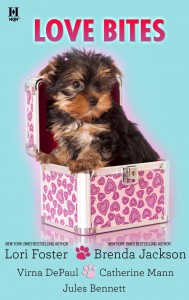 To be entered simply leave a comment - you choose the subject! You can talk about Catherine Mann's Dark Ops series, her yummy Harlequin Desires, her love of animals, or what you're doing to stay cool this summer! (We're sweltering here in Ohio right now.) Tell a friend who mentions your name in their comment and I'll enter both of you an extra time. So get busy, leave those comments, and give your friends a little nudge to stop by! I'll draw the winner on Monday, July 23rd. A friendly reminder - if you want to post your email addy with your comment, that will go far in simplifying things if you're the winner. If you don't want to leave your email addy, be sure to stop back to see if you've won.
Thanks for checking out PROTECTOR!