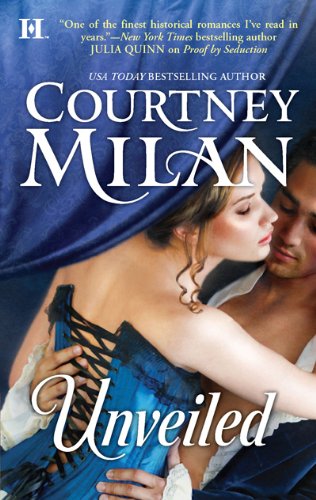 Thanks to author
Tessa Dare
, who asked on Twitter last week for a handful of readers to read the latest release by
Courtney Milan
, UNVEILED, and share their thoughts. I was fortunate enough to be one of the readers chosen and am I ever pleased that I was. UNVEILED isn't your typical historical romance. This was my first ever read by Ms. Milan and no, it definitely won't be my last. Yes, there's a tortured hero, an almost equally tortured heroine, and layer upon layer of rich storytelling. Ash Turner is seeking bitter revenge when he meets Margaret. What he finds is a woman who is incredibly attractive to him not only because of her beauty, but because of the woman herself. She is the most kind, caring, selfless person he has ever met. Margaret wants to despise Ash from the moment she lays eyes on him, and it's difficult for her to hide her loathing. It isn't long before she's helpless against his powerful masculinity and his natural charm.
This book is excellently written and the storyline uniquely original.
He was her bitterest enemy…Ash Turner has waited a lifetime to seek revenge on the man who ruined his family, and now the time for justice has arrived. At Parford Manor, he intends to take his place as the rightful heir to the dukedom, and settle an old score with the current duke once and for all. But when he arrives, he finds himself drawn to a tempting beauty who has the power to undo all his dreams of vengeance.And her dearest loveLady Margaret knows she should despise the man who's stolen her fortune and her father's legacy—the man she's been ordered to spy on in the guise of a nurse. Yet the more she learns about the new duke, the less she can resist his smoldering appeal. Soon Margaret and Ash find themselves torn between old loyalties—and the tantalizing promise of passion…
Can't wait to get your hands on UNVEILED? You're smart if you do! Here's a quick link to
Amazon
so you can snag a copy for yourself!
Because I'd like to pay it forward, so to speak, I'm going to do a giveaway for readers here and will buy one of you a Kindle copy of UNVEILED.
If you're interested in the Kindle copy (remember, you don't have to have a Kindle to read a Kindle version of a book), just leave a comment. I have the Kindle app on my iPod Touch and used it exclusively as an ereader before I had an actual Kindle; there are also versions for your PC, Blackberry, iPhone, etc. I'd love to hear whether any of you have read Ms. Milan's work before and if so, what title? I will be seeking more of her books and would like recommendations. I'll pull a name from all comments on Tuesday, Feb. 8th.
Thanks again to Tessa Dare for introducing me to Courtney Milan!