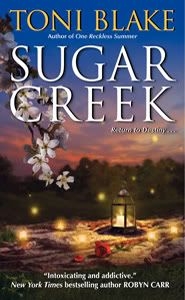 Once again, I'm offering up my apologies for being neglectful here. Frustratingly enough, even while I've been a slacker for a handful of weeks, I've never heard from the two winners of copies of
Toni Blake
's SUGAR CREEK. I'm naming new winners and hoping that they will come forward. If not, I will set them aside for a Valentine's Day contest that I'm working on. The new winners are
CYBERCLIPER
and
VIRGINIA
. Ladies, please send your mailing info to me at
ljodamron@gmail.com
- I'll give the new winners until Thursday to get in touch.
And don't forget, the SUGAR CREEK giveaway is in celebration of the release of WHISPER FALLS, the third book in Toni's "Destiny" series, set in Ohio. So fun to read books set in your own back yard!
More book chatter and contests coming soon, perhaps even later today!
As always, thanks for stopping by!