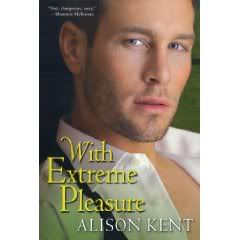 WITH EXTREME PLEASURE, the latest from
Alison Kent
will be releasing shortly, around Thanksgiving. This book tells the story of Kingdom Trahan who was introduced in NO LIMITS. King hails from the bayou and just as I suspected it would be, his story is heated and sultry. King was a strong character in NO LIMITS with an easy, laid back style, and Alison has yet again done a beautiful job of storytelling in sharing his story! WITH EXTREME PLEASURE IS available (at this writing, anyway) for pre-order at
Amazon
for just $9.45 - that's a steal for a trade.
ONLY SOMETHING THIS DANGEROUS…
After three weeks in Manhattan, Kingdom Trahan is ready to get back to bayous, crawfish boils, and afternoons fishing on the Gulf. But before he can pull out of the parking garage, he meets a curvy detour. King noticed Cady Kowalski on the photo shoot he just endured—sexy and confident, with a waifish look that belies the way she corralled him into submission using only a can of hairspray. Yet Cady isn't confident now. She's bruised, edgy, and desperate to get out of town…
COULD FEEL THIS GOOD…
For years, Cady has been looking over her shoulder, wondering when the gang of drug-running criminals who killed her brother would make their move on her. She's grown used to having no one to turn to, no one to trust. But King isn't walking away—not even when their lives are threatened, again and again. Drawing Cady's pursuers out of hiding is the only way to end this, and it's also the most reckless thing they can do…short of diving into a red-hot affair from which there's no turning back…
For a bigger nibble, there's a great excerpt
here
My review:
Kingdom Trahan could not have imagined in his wildest dreams that his cousin Simon's marriage would affect his own life so dramatically. After giving in to Micky Ferrer-Baptiste's coaxing and agreeing to do a commercial photo shoot for Ferrer Fragrances, he's thrown together with Cady Kowalski, the only make up artist on the shoot who will put up with his bad attitude. Relieved when the shoot wraps up, King is happy to jump in his truck and head back to the Louisiana bayou. When Cady jumps in too he's determined to get rid of her, going so far as to physically remove her and her belongings. As soon as he gets a good look at her battered face and realizes that she's in serious need of protection, he gathers her and her bags back into the truck and they hit the road. When Cady's pursuers and then the feds attach themselves to the couple, Cady's more than just a little thankful for King's resourcefulness and his determination to keep her safe. It's been a long, lonely time since anyone has shown genuine concern for her.
Their relationship quickly heats up making it even more difficult for King when he realizes there's little chance of catching the bad guys unless Cady is used as bait. King isn't shy when it comes to seduction and pleasure, but the unfamiliar emotions that have reared up since he's been with Cady are making him more than just a little uncomfortable. At the same time, Cady's feeling guilty about King taking so many risks on her behalf. Her increasing affection for him has her questioning whether she should take off on her own. She hasn't trusted anyone for so long that his kindness and attention are confusing and have her inherently on guard.
Once again Alison Kent has crafted a story that is uniquely original and possesses qualities that readers have come to expect from her. The action gathers momentum from the very beginning and the suspense escalates as the story continues. King and Cady are not your typical hero or heroine - while he is extremely protective of her, his passion for her is almost fierce; gritty and raw. Cady may appear delicate and fragile with her near-broken body and jagged emotions, but she gives as good as she gets from King, making his seduction, and his heart, her very own. I highly recommend WITH EXTREME PLEASURE to all readers who enjoy heated, satisfying romance wrapped in action and adventure.
Thanks for checking it out!
Laurie