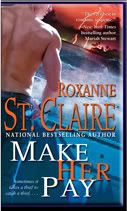 Roxanne St. Claire
has a new release, MAKE HER PAY, available now. Remember a couple of months ago I posted a review for HUNT HER DOWN, and said that I was looking forward to meeting Roxanne at the COFW conference book signing? That book signing took place about three weeks ago and I did have the pleasure of meeting Roxanne. She is an absolute doll -gorgeous, funny and charming; I wish I'd had more time to visit with her. Just as exciting was getting an early, autographed copy of MAKE HER PAY! Continuing the Bullet Catcher series, MAKE HER PAY is the story of Constantine "Con" Xenakis. Constantine made appearances in at least two Bullet Catcher books and I was extremely excited for his story, especially after his role in HUNT HER DOWN. Take a closer look at MAKE HER PAY with this great
excerpt
!
Blurb:
Bullet Catcher and former Navy SEAL Constantine Xenakis has infiltrated a dive ship to discover who's plundering priceless gems from a legendary sunken Spanish galleon. When he catches Lizzie Dare red-handed in the locked treasure room, her story of a stolen ancestral legacy convinces him to work with the sexy thief instead of turning her in -- and not just because he wants to find the real culprit. Lizzie is willing to risk everything to save the Bombay Blue Diamonds from her sworn enemy, even if that means giving in to an irresistible desire to get closer to her accomplice. But when passion hits them like a rogue wave and danger surrounds them like a school of hungry sharks, their adventure on the high seas turns treacherous...and deadly.
My review:
Constantine Xenakis is working undercover on a dive ship in an effort to find the person or persons responsible for recovered priceless artifacts. Imagine his surprise when he's only on the ship for a couple of hours and discovers fellow diver Lizzie Dare sneaking into the lab where the artifacts are held. After an initial confrontation, it appears that the two have similar objectives when it comes to the artifacts. Con's reaction to Lizzie is instantaneous and heated, which makes cozying up to her to keep her under watch no hardship whatsoever. But Con is hoping for a long-awaited, permanent return to the Bullet Catchers and soon finds himself torn between doing what's right and doing the job he's been probationally hired to do. Given his attraction to Lizzie, Con soon realizes that the job, his future,
everything
, hinges on whether or not he's willing to break her heart.
Lizzie's motives are much more personal than Con's and the emotion blanketing a heart that's heavy after her father's death is fueling her determination to return the artifacts where they rightfully belong. Constantine Xenakis is an unexpected force to be reckoned with. As if. There is very little reckoning with Con. He's the most intimidating, capable, frustrating male that Lizzie has ever encountered and she knows that staying on her toes, the very ones that he repeatedly makes curl, is the only way she'll be able to keep her wits and take possession of the sunken treasures. It isn't long before Con and Lizzie realize that they're surrounded by evil, on ship and on shore, and their fight soon goes beyond keeping the artifacts safe to keeping themselves alive.
MAKE HER PAY brings to a close the Bullet Catcher series that has brought readers so much pleasure over the years. I'm excited for the new series Roxanne St.Claire is working on, but at the same time, I'm extremely disappointed to see this series come to an end. I know that authors appreciate their readers and happily absorb the positive comments and feedback they get from them about their work, but wonder if they fully understand how deeply their talents touch (and stay with) readers? I have gotten my hands on every one of the Bullet Catcher books as soon as they were released, earlier if I was lucky enough to get them for review, and I truly think that I enjoyed the storytelling in this particular book more than any other in the series. Con is unashamedly a thief and Lizzie is a gentle, kind-hearted soul who has seemingly reached right in and grabbed hold of his heart, making it her own. Together they simply sizzle. I am trying to content myself with the knowledge that Roxanne St. Claire is hard at work on a new series, but in the meantime, I give MAKE HER PAY my highest recommendation!
Go
here
to order MAKE HER PAY!
To celebrate the release of MAKE HER PAY, I have an autographed copy of HUNT HER DOWN for giveaway. If you're interested, please leave a comment. I'm very interested in what your favorite book in the Bullet Catchers series is. Do you have a favorite character, locale, or couple? Haven't read any of the series? That's okay, and you can even say so in your comment, but then I'm going to ask "What rock have you been living under?" just to give you a hard time! Send a friend over who mentions you and you'll be entered an extra time for each friend. I'll draw the winning name on Tuesday, October 13. Good luck, everyone!
Can't wait to win a copy? I'll make it easy for you to get a copy of your own - go
here
to toss a copy of HUNT HER DOWN in your Amazon shopping cart alongside MAKE HER PAY!
Thanks for taking a look!
Laurie