Marie Force
is guest blogger tomorrow! Please check out this talented woman's books, her website and her
blog
, then come back tomorrow for some fun. Have questions for her? Bring them here tomorrow when she'll be chatting and answering questions - and two lucky readers will win autographed copies of LINE OF SCRIMMAGE and LOVE AT FIRST FLIGHT! I have read both of her books and loved them! My favorite is LINE OF SCRIMMAGE. If you've followed my articles at Romancing the Blog, you know that I've mentioned this book on two occasions, first when discussing sports figures in romance and second when talking about books where the hero's "I Love You" comes before the very last pages of the book. My friend Judy told me about LOS and when I hadn't read it, hesitating because I wasn't familiar with Ms. Force, she loaned me her copy. I loved it so much that I returned her copy and bought my own, knowing I would want to reread it. And reread it I have - more than once! LOVE AT FIRST FLIGHT isn't your typical romance either. Each character is in a relationship, albeit shaky for both, when they meet. The events that follow, intrigue and suspense wrapped up in a wonderfully timed romance, is extremely satisfying. Here's a little tease about both of Marie Force's excellent books: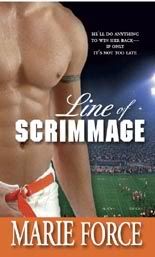 In the Hail Mary play of a lifetime, a sexy NFL quarterback has just ten days to convince his wife to give him a second chance before their divorce is final—and he has to act fast because she's already engaged to her high school boyfriend. Line of Scrimmage is a story of reunion, redemption, rejuvenation, and renewal. Readers will laugh and cry and hope—that at the end of the day, these two lovers, who clearly belong together, will somehow find their way back to one another.
You'll find a fun
excerpt
here - and here's a link to
Amazon
so you can grab a copy for yourself!
A Baltimore prosecutor set to begin the murder trial of his career and a hair stylist with a dysfunctional family meet in the airport on their way to visit their significant others in Florida. After they each endure a disastrous weekend, they meet up again on the flight home, striking up an unlikely friendship that leads to love.

There's an excellent
excerpt
at Ms. Force's website, and again, you can click yourself over to
Amazon
to toss a copy of LOVE AT FIRST FLIGHT in your cart!
Thanks for stopping - be sure to stop back tomorrow to chat with Marie Force!
Laurie