Jill Shalvis
readers should be pretty darned happy right now - two recent releases to entertain you!
The first, available now, is DOUBLE PLAY and is it ever delish!
Back cover blurb:
Pace Martin is the ace pitcher for the Pacific Heat. He's got the arm, the experience, and the wins. He's also got the pain, the pressure, and the possible end of his career looming over him. The last thing he needs now is a distraction, even if it comes in the form of a tough, beautiful, tell-it-like-it-is writer who sees past his defenses.
Holly Hutchins knows a good story when she sees one, and the tall, dark and slightly attitude-challenged Pace Martin fits the bill. But when she realizes there's more at stake than just a win, she starts to see the handsome, broad-shouldered jock in a different light.
Pace and Holly begin a seductive game, but in the face of unexpected betrayal and challenges, they'll have to find the courage to swing for the fences.
Want an excerpt? Go
here
- and then you can pop over to
Amazon
to order a copy!
Next up is an August Blaze, STORM WATCH. Readers are going to enjoy this one - I like the clinch-free cover! I haven't subscribed to the Blaze series for several years now, but still pick them up on occasion, especially if I'm familiar with and enjoy the author, like Jill!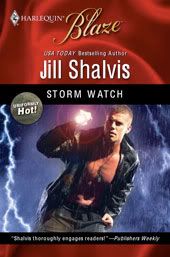 They're typically quick reads; heavy on the romance.
Subject: Jason Mauer, National Guard.
Current status: Homeward bound.
Mission: Getting some R & R!
Obstacle: Lizzy Mann.
Sexy blast from the past.
Blurb:
After Hurricane Katrina, Jason needs some downtime—badly! But there's no rest for the heroic. During another deluge, Jason's savior skills are
suddenly in demand…by his hot friend Lizzy.
She's fiercely independent. But that doesn't keep them from having incredible sex as they, ah, ride out the storm!
Jason knows relationships and duty don't mix. Still, he feels as if he's being swept away by a flash flood of desire for Lizzy.
The permanent kind…

Uniformly Hot!
The Few. The Proud. The Sexy as Hell.

Go
here
for a great excerpt! And here's a link to
Amazon
so you can snag your own copy!
First off, I have to apologize to Jill for not doing reviews for these two. I have read them both and give them each two thumbs up! If I had more thumbs, I'd give more than two! I'm behind on several Romance Junkies reviews right now and need to get caught up. I am doing a giveaway though! I have a copy of DOUBLE PLAY for giveaway. You know how it works, leave a comment if you're interested, and you'll be entered. A little chatter about Jill, her work, her blog, etc. is always nice, or tell us about any current/recent reads that knocked your socks off! Because I have something going on every night this week, I'm going to draw a name on Sunday, August 9.
Thanks for checking these out!
Laurie