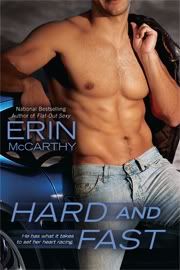 Erin McCarthy
, one of the sweetest women you'll ever meet, was generous enough to send me an arc of HARD AND FAST, the second (following FLAT-OUT SEXY) in her racing series. Erin was also kind enough to send me a copy of FLAT-OUT SEXY as well because I hadn't read it yet. I did a very quick read of FLAT-OUT SEXY because I'm close to being behind on reviews right now and running very close to the release of HARD AND FAST (May '09).
FLAT-OUT SEXY is just that, a steamy, sexy read that tells the story of Prof. Tamara Briggs-Monroe and stock car driver Elec Monroe. Their story is incredibly romantic and happily for readers, they play an important role in HARD AND FAST. Catching up with them was especially fun! One thing is certain – I'll be rereading both of these books at a more leisurely pace in the very near future!
I guess I would be remiss to not mention the gorgeous covers, right? The only thing missing, quite literally, is their heads. Now I'm sure these guys aren't homely (and with bodies like this, who cares if they are, right?), but I'm a smidge courious as to why they took off their heads. Personally, I think it adds a touch of mystique - what do you guys think?
An experiment in romance…
New to Charlotte, stock car racing country, graduate student Imogen Wilson meets Ty McCordle, a driver who inexplicably has her pulse racing. After an encounter at the track with a woman whose main goal in life is to marry a driver, Imogen realizes she's hit on the perfect thesis for her Sociology degree. If she follows The Rules on how to get a man, can she steer her way to into the hearts of the drivers and establish their dating—and mating—patterns?
That's testing the limits of passion.
Although sexy and reckless Ty is the ideal test subject, she knows she can't pursue him for the sake of science. Yet he's the one who's chasing after her, and Imogen realizes that she actually wants to be caught. A southern gentleman like Ty won't fail to disappoint, will satisfy all her curiosity—and make all the risks worthwhile…
Want a bigger taste? Go
here
for a great excerpt!
My review:
HARD AND FAST is the story of grad student Imogen Wilson and stock car driver Ty McCordle. While the two are total opposites, there is an instant attraction between them. Imogen accepts an invitation from her friend Tamara to go to a stock car race and ends up sitting next to a race bunny who's reading a book detailing how to snag and marry a race car driver. Imogen immediately knows that she has a topic for her thesis. She has had eyes for Ty McCordle for some time, but his dating said race bunny puts a damper on any hopes she has for attempting to check the courting rituals of drivers for herself. Before she knows it, Ty is available and undeniably interested in Imogen, but when he insists on a two-week "get to know you" courtship before taking their relationship to the next level, she is equally surprised and frustrated. When their relationship intensifies and Ty decides to share a huge secret with Imogen i.e. his dyslexia, she isn't turned off and doesn't find him pathetic or lacking as he had feared. Even so, her reaction isn't at all what Ty expects and after he makes some ugly accusations, he finds himself once again available.
Ty has battled dyslexia his entire life and while charm and an excellent memory have served him well, he's more than a little intimidated by Imogen's superior intelligence. When he discovers her thesis research, he quickly decides that he doesn't want her researching with anyone but him. As the two give in to their intense attraction and their relationship quickly turns serious, Ty knows that he's going to have to tell Imogen the truth about his dyslexia. While she is surprised, she isn't disgusted as he expects, but he's the one who reacts without thinking and Imogen's euphoria is quickly extinguished by Ty's accusations.
Imogen and Ty aren't your typical romance characters. Imogen might be bookish and totally lacks the artifice of many of the women who attract stock car drivers, but that is a rather minuscule part of her charm. She is a very sexual woman who knows what she wants and is unashamed in going after it. Ty may be smooth, but underneath the self-assured bravado he's vulnerable and especially uncertain of his future with Imogen. While the sensuality between them is abundant and intensely heated, they have real, heartfelt conversations and truly care for and respect each other. Imogen puts me in mind of Dr. Temperance Brennan on the television show "Bones" – brainy and beautiful, always speaking her mind, unable (and unwilling, besides) to hide her intelligence while remaining absolutely adorable. Erin McCarthy has once again given readers a beautiful love story that fits in its very own mold. I give this book (and this series) my highest recommendation!



Making it easy for you here - head on over to

Barnes & Noble

or

Amazon

if you'd like to pre-order a copy.
Thank you all for checking out HARD AND FAST. Special thanks to Erin for allowing me to read and review this one for you - I loved Imogen and Ty!
Have a great week!
Laurie