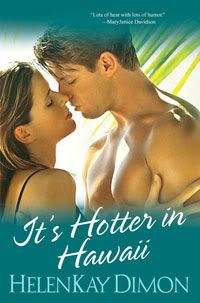 HelenKay Dimon has a new book coming out and I was extremely fortunate to get an early copy from her for review. (Thank you, HelenKay!) I've never been disappointed by HelenKay's books and I feel certain that most of you probably feel the same. Here's a little chatter and my review for IT'S HOTTER IN HAWAII and in addition, covers and blurbs for upcoming books.
Cassie Montgomery was in no mood for messing around—until she got an eyeful of the sizzling-hot miscreant breaking into her half-brother Dan's Hawaii home. Turns out he's not a criminal, but a friend who's just as suspicious of Dan's "accidental" death as she is. Cassie's beyond tired of bashing heads with thick-skulled local law enforcement, so there's only one thing for it: team up with Caleb Wilson, and try to keep her secrets—and hands—to herself...
Having a gun trained on him is nothing new for Cal. But when said gun is brandished by a goddess sporting short-shorts, a bad attitude, and a hidden agenda? A man should consider his choices very carefully. Option one: Seduce first, ask questions later. Option two: Find out why she's in his Air Force buddy's torn-up house, then seduce her. Option three: Let the islands do their work and let the woman behind the weapon seduce him...
MY REVIEW: When Cassie Montgomery's big brother dies while piloting, and subsequently crashing, a helicopter used in his Hawaiian island-hopping business, she feels certain that his death was not accidental. Finding Dan's rural Kauai home ransacked when she arrives to clean it out, she begins to search for clues and it isn't long before she's interrupted by an intruder trying to sneak in the window. Cal Wilson isn't truly an intruder, but his work is cut out for him to get Cassie to trust him and allow him to join her investigation. Sparks fly when the two are together and soon their desire for each other is as strong as that to solve the mystery behind Dan's death.
Caleb "Cal" Wilson was summoned by Dan shortly before his death and he's incredulous to learn of Dan's crash. He hadn't seen Dan for some time and despite the unsettled issues and hard feelings between them, Cal couldn't refuse Dan's request for help. Cal can't resist his attraction to Cassie, just as he can't help his frustration over her hard-headed, albeit admirable, determination to find the truth behind her brother's death. Soon the two have joined forces in searching for answers, in butting heads with local police and the DEA, and there's an attraction that immediately encompasses them both. As the investigation deepens and more truths about Dan are uncovered, Cal knows it's simply a matter of time before Cassie learns that he and Dan had been estranged and just what his role was in the termination of Dan's military career.
HelenKay Dimon is consistently creative and always entertains readers with quick-witted characters, settings that come to life in readers' minds, and vivid sensuality. Cassie's pain at the loss of her brother seems almost tangible at times, and despite their frequent banter and heated passions, she and Cal never lose sight of the real reason they've been brought together. While this book is promoted as contemporary romance, it has a fair amount of suspense and could also, in my opinion, be categorized as a romantic suspense. Secondary characters play an intricate role in the story and two will have their stories told in upcoming books from Ms. Dimon. I give IT'S HOTTER IN HAWAII the highest recommendation to all romance readers.
If you can't get to the bookstore on release day, I suggest that you pop on over to Amazon and toss a copy in your cart.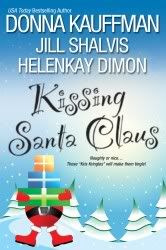 Take a look at what's coming in October '09: KISSING SANTA CLAUS with Donna Kauffman and Jill Shalvis!
Hawaii's no paradise for Marissa, who, thanks to a series of unfortunate events, can't seem to get away from the sand to enjoy her Christmas East Coast style—with plenty of snow and slush. But tall, dark, and serious police officer Ted's about to give this bad Santa in heels a Mele Kalikimaka she'll never forget…
Ted plays a key role in IT'S HOTTER IN HAWAII and I think readers are going to be very excited to read his story. I am so pleased that HelenKay is keeping us in Hawaii a while longer!
Also coming in October '09: HOLDING OUT FOR A HERO - what a gorgeous cover, huh? Very sensual, but tastefully so - I think it's especially nice! And having gotten to know Josh a bit in IT'S HOTTER IN HAWAII, I can't wait to see what HelenKay has in mind for him! He definitely deserves a determined woman who will keep him on his toes!


Deana Armstrong needs a hero—not for herself, but for the nephew all her money and time can't seem to get out of jail. Unfortunately, the best hero in all the Hawaiian Islands is set on turning in his badge and getting his excellent butt into another line of work. If that wasn't enough, Josh Windsor also has a big-time grudge against Deana herself. But if there's anything being rich, smart, and stubborn has taught Deana, it's never to settle for second best…
Josh has had it with saving people. He's had it with getting hauled into court. And boy, has he ever had it with Deana. Or well, he hasn't had it. Yet. But the more she pops up sounding infuriating and looking good enough to eat, the more her hot bod and her cold case wriggle into his mind. And there's only so much even a hero can resist…
How's that for something to look forward to? I hope you'll all check out HelenKay's newly remodeled website and her books. Be sure to let her know what you think, ok? HelenKay truly appreciates her readers and I don't know any author who doesn't enjoy hearing when someone enjoys their work.
And now, even more exciting news! I have an autographed arc of IT'S HOTTER IN HAWAII for giveaway! Thanks to HelenKay, one lucky reader will win a copy just for leaving a comment. Feel free to chat about the usual romance reader stuff - fave HelenKay book, fave HelenKay hero, HelenKay's new website - it's all about HelenKay!! I'll draw the winning name this Friday, 3/27 - good luck, everyone!
Laurie