Catherine Mann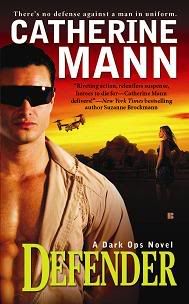 has an upcoming release (Berkley, April '09), DEFENDER, and guess who got an arc from Romance Junkies for review? You got it - I did! Catherine Mann has been a long-time favorite of mine for her wonderful military series books - and because she has always been extremely generous in donating books for prizes whenever Lori Foster and I have had troop projects going on. I haven't had the pleasure of meeting Catherine, but Lori has told me that she's an absoute doll. You can always count on accuracy in the military details in her work because she's married to her very own Airman! Take a moment to check out Catherine's website where you'll find great excerpts for DEFENDER and HOTSHOT (her May '09 release). You can bet that I'll be getting my hands on it as soon as it hits the shelves!
My (4 blue ribbon) Romance Junkies review:
When the boat carrying Chloe Nelson and other USO performers explodes, it's just the beginning of the sparks that ignite between her and Airman Jimmy Gage in Catherine Mann's DEFENDER.

Kidney transplant survivor Chloe Nelson owes her life to the soldier whose death, and subsequent organ donation, saved her. She takes time off from her position as an orchestra director in Atlanta to perform as a back-up singer to a popular pop star in a USO tour. When the boat the USO troupe is traveling in explodes, airmen risk their lives in shark-infested waters to come to their rescue. Jimmy and his team are in the area searching for one of their own that is being held captive and they begrudge the time they're spending to rescue and subsequently guard the entertainers while their buddy is missing; Jimmy knows first-hand how important it is that they find him right away. Despite her skimpy attire at the time of their rescue, Chloe is not just a pretty face. She is a successful conductor and accomplished musician, independent and self-sufficient; fully capable of taking care of herself. When the danger surrounding her and the attraction between her and Jimmy begin to escalate, Chloe is understandably confused.

Jimmy Gage is focused and determined, and extremely displeased when his team is temporarily delayed because of some fluffy USO entertainers. Sure, he feels the same sparks as Chloe when they're close, but he doesn't have time in his life or a place in his heart for more than a quick, meaningless diversion. When it appears that there could be a connection between the repeated attacks on the USO troupe and the disappearance of Jimmy's friend, he's more anxious than ever to have Chloe tucked safely away and out of danger.

Chloe and Jimmy are simply wonderful together. Both are cautious, intelligent and in complete control of their lives. Catherine Mann takes readers smack dab into the middle of military operations; it's immediately clear that her knowledge is first-hand. The amount of military jargon is just right – easy to understand and follow without leaving readers overwhelmed or confused. There are multiple storylines in DEFENDER, all intensely intriguing and intertwined without taking readers on a wild goose chase. I highly recommend DEFENDER to readers of contemporary romance, military romance, and romantic suspense.
Thanks for checking it out! I hope you all enjoy the rest of the weekend!
Laurie