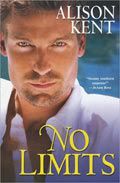 The luckiest girl in the world. That's me. At least that's how I felt to get an arc of NO LIMITS from
Alison Kent
. I couldn't wait to start it, didn't want to put it down once I had started, and I certainly didn't want it to end. I read when I should have been getting ready for work in the morning, I read after my lunch hour had ended, and I read when I should have been asleep. 6 a.m. rolls around especially early when you're reading until 1 a.m.! NO LIMITS will be available for purchase around the third week of April - I strongly recommend that you preorder your copy now.
Alison simply cannot write fast enough to suit me - raise your hand if you feel the same! You've witnessed my gushing about how much I love Alison's work on several occasions, so for now I'll just say that NO LIMITS kicks some serious ass. Fair warning, I reserve the right to gush in my review below!
The Heat is On . . .
Simon Baptiste's latest SG-5 mission just went south in a major way. With his career on ice for awhile, it seems like a good time to take care of some business back home in Louisiana. Simon knows it ain't going to be pretty. He's got some old enemies in Bayou Allain who won't exactly roll out the red carpet. But Simon's first night back is more than he bargained for. Not only has the homestead gone to hell in a hand basket, but there's a half-naked woman hiding inside it—a woman whose face Simon knows all too well. It's Michelina Ferrer, the sultry spokesmodel for her family's Ferrer fragrance empire—and Simon's been staring at her picture on a billboard outside his Manhattan apartment for weeks…
And It's Only Getting Hotter . . .
Micky Ferrer came down to Bayou Allain looking for her old college friend, only to discover that Lisa Landry has been missing for days. As soon as Micky starts asking questions around town, someone runs her car off the road. She's hiding out in the old Baptiste place when Simon shows up—and he's the hottest thing she's laid eyes on since she got to town. Simon agrees that something strange is going on and that Lisa's disappearance may be tied to it. As he and Micky search for answers, the sweltering heat makes it hard to keep their heads straight or their hands off each other…even as they unravel the small-town secrets that some people are willing to kill for…

Be sure to check out the great
excerpt
on Alison's site.
My review:
Simon Baptiste needs to take a break from his SG-5 duties and reluctantly decides that this would be a good time to go to Louisiana to check on his property in Bayou Allain. The same homestead that he abandoned to the care of a property manager several years ago. Leaving Manhattan and the billboard facing his apartment that stunningly advertises Ferrer fragrances for a while should go far in clearing his mind of the recent mission that had gone terribly wrong. Imagine Simon's shock when he walks into his house to find a beautiful woman wearing nothing but wading boots and a sheer bra, rinsing her clothes in his kitchen sink. Especially when the woman turns out to be Michelina "Micky" Ferrer, the model he has secretly admired since the billboard went up across from his apartment. His surprise is nothing compared to the shock on her face though, and he immediately senses her terror. Learning the reason behind her unexpected visit to Bayou Allain, and the people behind the reason, he realizes that she has good reason to be frightened.
When Micky Ferrer wakes up in her Manhattan bedroom after yet another night of hard partying and questionable behavior, she decides to leave town for a while to escape the disappointment, albeit justified, of her famous family. Her long-time friend, Lisa, has repeatedly invited her to visit her home in Bayou Allain, and having recently hinted at something troubling her, Micky decides to head to Louisiana to escape the tabloids and her family. Upon her arrival in the small bayou town, Micky is unable to locate Lisa and begins asking questions. Evidently she is asking the wrong questions of the wrong people because she soon finds herself forced off the road and barely escapes her rental car as it sinks into the murky waters of the swamp. Joining forces with Simon Baptiste seems a guaranty of her physical safety as they search for clues in Lisa's disappearance, but as the two begin to dig into the history of Simon's land and the tainted descent of Lisa's in-laws, connected secrets are brought to light and soon they're both faced with danger.
Alison Kent never delivers a book that's anything less than brilliant. Her characters are always uniquely sharp, dialogue is snappy, and readers are guaranteed an emotionally rich story with precise layering. Simon is a familiar character from previous SG-5 books, and Alison's telling of his story is definitely worth the wait. Micky is initially reminiscent of a real-life heiress whose risque exploits make her a paparazzi favorite, but it doesn't take long to realize that she is sharply intelligent, fiercely loyal, and the perfect match for Simon. I couldn't give this book a stronger recommendation, especially for readers who have read the previous releases in this series.

I'm hoping that by now you're anxious to get your hands on a copy of NO LIMITS. If so, why not pop on over to
Amazon
and toss a copy in your cart - and I'll bet you have at least one friend who would love to be surprised with a copy in a May Day basket!
THE CONTEST:
Alison is generously offering two copies of NO LIMITS, and would like to see a little chatter from all of you about the most romantic book you've read recently. Feel free to include the most romantic book you've "ever" read. I have a copy of the JINGLE BELL ROCK anthology in trade format for giveaway too - Alison's contribution is titled A BLUE CHRISTMAS. This book isn't autographed, but it is brand spanking new and hey, if you only like holiday tales around the winter holidays, then put it up until fall/winter! If you want in on the draw, simply leave a comment - I'll draw the winning names on Thursday, April 9th. Remember to check back as I won't track you down! Good luck!
Thanks for checking it out!
Laurie