UPDATE!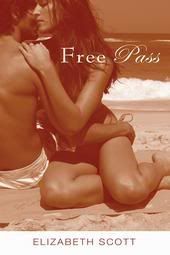 The winner is CRYSTAL GB!!
Congratulations, Crystal! Please email me with your mailing info (
ljodamron@gmail.com
) so I can get your copy of THE WRITE INGREDIENTS in the mail! Please contact me by Saturday, Jan. 24. Thank you, everyone, for playing! I hope to have another review posted tomorrow evening that will include the giveaway of several books, so be sure to stop back!
Elizabeth Scott
has a recent (December) release (yes, I'm way in the heck late here), FREE PASS, and I'm hoping you'll all check it out. Don't you love that cover? It so makes me wish I was younger and thinner, not to mention sitting on the beach - it's -10 degrees as I'm typing this!
Elizabeth Scott's Myspace blurb:
For their seventh anniversaries, three pairs of husband-and-wife friends allow each other a one-night stand with a stranger, provided they share all the steamy details.
You can't call it cheating when you have a Free Pass.
Amazon Blurb:
These three couples have shared good times with each other as friends. But as they celebrate their seven-year anniversaries, they're planning to share some even better times—with strangers…Vacationing in Miami, Cherisse and Wesley are up for more than sunbathing, when Wesley spies a naughty lady through his telescope and Cherisse focuses her gaze on the lifeguard. Meanwhile, Melanie passes on the hot men at her health club and chooses a private workout with an out-of-towner. When her husband accidentally walks in on them, it's anything goes.
And at their rental in Greece, Debra and Gordon discover a Russian couple making love in a private show just for them. For the restless Americans it's quite a come-on—and an irresistible invitation…

I've written a brief overview rather than an out-and-out review, just because I'm so far behind - check it out:
FREE PASS tells the stories of three young couples, all friends, all coming up on their seventh wedding anniversaries. In order to keep their marriages fresh and romantic, the wives hatch a plan to allow their husbands a "free pass" for a one-time sexual dalliance. Of course the pass works both ways, and the women aren't lacking for attention! While there was some hesitation at first, everyone is soon willingly involved in carnal pleasures!
Cherisse and Wesley take a beach vacation where they discover that their love for each other is incredibly strong and will continue to grow.
Melanie's reason for wanting Thomas to accept the pass runs a little deeper and while Thomas isn't initially crazy about the idea, he realizes that Melanie needs to see that his love for her is never ending and that he doesn't want, or need, anyone else.
For Debra and Gordon, having only been with each other, the idea of sharing each other with others is more than a little forbidden and oh so exciting!
While I don't approve of adultery or infidelity, regardless of who's "on board" with it, Elizabeth Scott has taken what I would typically consider a distasteful subject and written three sensual, romantic stories around it - and very nicely! Chock full of passionate love scenes and despite the "sharing" that takes place, these three couples are devoted to each other and their marriages.
Thanks to the generosity of Marty at
Samhain Publishing
, I have two copies of THE WRITE INGREDIENTS cookbook - I'm going to give one away now to celebrate Elizabeth's release of FREE PASS. All you have to do to enter is check out Elizabeth's Myspace page and tell me the titles of one of her books. I realize that after a handful have entered, the titles will all be visible, but I'm hopeful that you'll go check out her page anyway - don't miss the video for FREE PASS! For a bonus entry, tell me the name of Elizabeth Scott's alter ego (she's one of the authors who contributed recipes for the cookbook). I'll draw a name on Wednesday, January 21st.
Check out Samhain's site while you're cruising the web - I'm willing to bet that they are the fastest growing epub around, and their attention to detail is second to none.
Thanks for stopping and for your interest in FREE PASS - I highly recommend it to all who enjoy highly erotic romance! Here's a link to
Amazon
so you can grab a copy for yourself!
Laurie