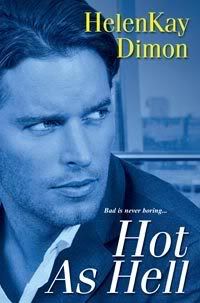 HelenKay Dimon
has a stellar new release, HOT AS HELL and I promise that you won't be disappointed. The cover is just the beginning of goodness in this book - every page from beginning to end is enjoyable.
Here's a little blurb:
Lexy Stuart is nobody's fool...not since she wised up to the fact that her fiancé, Noah Paxton, wasn't just sporting the hardest bod this side of the Ironman competition. No, he was also harboring enough secrets to make a CIA operative blush. Little things he never thought worth mentioning like, oh, a previous marriage. So Lexy gave back the ring—with extreme prejudice—and made sandy tracks straight to a remote desert spa. Problem is, with a man like Noah, a girl can run, but she can't hide. Nor does she particularly want to...
Alexa Annabeth Stuart. The stuffy name couldn't be less suitable for a woman as fiery and free as Noah's Lexy. And Lexy is his—always will be—the tricky part will be getting her to realize it. Of course, Noah's always up for a challenge. Which is a good thing, since between the crazy heat at this god-forsaken "retreat" and the looks Lexy's shooting him (not to mention the shockwaves he's getting from her hot-pink bikini), winning his ex back could be one dangerous mission. But if Noah doesn't survive it, well, he intends to die a very satisfied man...

My review:
When Alexa "Lexy" Stuart breaks her engagement with security specialist Noah Paxton, it isn't strictly because he has secrets he won't share, although the fact that he evidently forgot about having been married before remains a bit of a sore spot. She goes to a spa to get away and do some investigative thinking of her own only to have Noah follow, trying to talk her back. When a dead body shows up in Lexy's room and she finds herself in the middle of a murder investigation, Noah sticks by her. Noah knows about and accepts Lexy's weaknesses and insecurities from being raised by parents who are hoarders, and he goes above and beyond to make her feel safe and secure. The inexplicable need to be surrounded by her belongings is something Lexy battles constantly, sometimes more successfully than others. If only Noah could see that Lexy needs some truths from him before her mistrust will be completely set aside so they can return to the loving, passionate relationship they had before.
Noah has secrets, yes, but Lexy is being plenty secretive herself, breaking their engagement and then inexplicably bringing some of his work files with her to this Godforsaken health spa, where he's forced to eat sprouts and go on endless hikes in the scorching sun. When the subject of those files is found murdered in Lexy's room, Noah's instincts are to keep her safe while doing his own investigation. Lexy is the most intriguing yet frustrating woman he has ever known and he knows that being the one steady constant in her life is his only hope for recapturing their relationship, despite the craziness surrounding them.
HelenKay Dimon always gives readers the most fascinating characters. Her storylines are always fresh and new and I have yet to not enjoy one of her books. Lexy is a wonderful heroine who is an interesting mix of strength, self-sufficiency and vulnerability and while she may think she doesn't need Noah, the truth is she's incomplete with him. Noah, on the other hand, readily admits that he wants and needs Lexy and that his life is empty without her. I find the hoarding issue to be especially interesting and think it goes far in making this story incredibly realistic. Kudos to HelenKay for daring to bring this topic to light in a romance! I highly recommend this book to everyone who enjoys contemporary romance with a touch of humor and mystery.
Thanks to HelenKay for allowing me to review HOT AS HELL for her - I hope you'll all be more than tempted go grab a copy - here's a quick link to
Amazon
so you can do just that! If you've already read it, please share your thoughts with us (but no spoilers, please)!
The week's half over - I hope it's treating everyone right! I doubt that I'm the only one who's relieved that the election is said and done - I hope our nation will unite now in making the future better for everyone - not to mention that we can return to our regularly scheduled programs (and commercials)!
Laurie