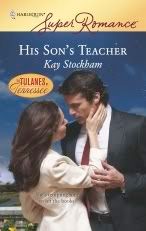 Kay Stockham's
upcoming (July 8) release, HIS SON'S TEACHER, tells the sweet story of Jennifer Rose, a teacher whose self-confidence has taken a serious blow after an unexpected divorce, and Nick Tulane, a single father whose self-made success has not guaranteed him a carefree existence.
Here's a little blurb:
Nick Tulane ordinarily won't admit weakness—in himself or in those he loves. But when he learns his son is about to fail in school, the single father is desperate to find a tutor. And Jennifer Rose is perfect.
In fact, Jen might be too perfect. Nick's starting to fall for the attractive teacher, and he can't let that happen. Because opening up to Jen means sharing the secret that has always made him feel like an outsider in his own family. Still, with his son showing signs of following in his footsteps, Nick can't keep the truth hidden. But once she knows, will Jen accept him…weakness and all?

My review:
Jennifer has suffered the ultimate betrayal at the hands of her self-centered, cheating ex-husband. Having gained weight after her divorce, she now lets her weight define who she is and despite being an incredibly intelligent, kind-hearted young woman, her self-esteem has hit rock bottom. When her best friend tells her about local gym owner Nick Tulane, who needs a summer tutor for his failing son Matt, she decides to approach him with a business proposition – she'll tutor his son in exchange for time with a personal training at his gym in a desperate attempt to get herself back in shape. Jen's friend failed to mention that Nick is absolutely gorgeous and she finds herself embarrassed and intimidated just being with him, especially when it becomes clear that
he
intends to be her personal trainer. Jen soon finds herself falling for Nick and Matt, but as she delves deeper into Matt's learning issues, she finds that the problem runs much deeper than she originally thought and it appears that Nick considers the true heart of the matter to be strictly off limits.
Nick accepts Jen's offer without hesitation and is relieved to know that Matt will soon be back on track with his studies. He finds Jen to be a caring, compassionate young woman and while she does have a few pounds to lose, she's nowhere near as overweight as she thinks she is. He has his work cut out for him in convincing her that she's worthy and deserves nothing less than complete happiness. What Jen doesn't know is that Nick has a secret. A secret that he has allowed to drive a wedge between him and his family for several years. When Jen discovers the truth and a serious misunderstanding follows, Nick feels betrayed and any considerations for a future together appear to be completely destroyed.
Kay Stockham always includes real life lessons in her books. HIS SON'S TEACHER delves into weight loss/fitness issues and realistically addresses the painful emotions and insecurities that often go hand in hand with being overweight. Without giving away too much, I'll add that reading/learning disabilities are also an important part of the storyline and readers will find themselves interestingly informed about a subject they've likely not given much thought to. Relationships between friends and within families, complete with imperfections, always play a crucial role in Kay's books and HIS SON'S TEACHER is no exception. I highly recommend this book to all romance readers who enjoy a sweet story with plenty of sizzling passion, and characters that are far from flawless.
Kay has kindly given me an autographed copy of HIS SON'S TEACHER for a giveaway here! Thanks so much, Kay! I'll draw one name from those who post here in, let's say five days, or Monday, June 30, in the evening.
Thanks for checking this one out! Be sure to stop by Kay's site for an excerpt and purchasing information - and don't forget that series romance have a short shelf life, so act quickly.
Laurie