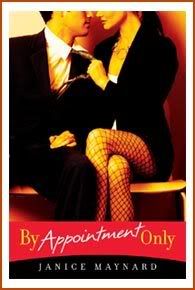 Janice Maynard
(check out her updated website!) has a new book, BY APPOINTMENT ONLY, releasing in a couple of days - readers are going to love it! Hannah and Morgan are brilliantly written and Janice pulls you into their story from page one.
A blurb:
A good marriage is based on love, commitment, and enough hot sex to last a lifetime…Hannah loves Morgan enough to become his fiancée, but that doesn't mean she wants to get married. In her experience, everything goes downhill after you say "I do"—and it all starts in the bedroom. For Morgan, marriage isn't the end, it's the beginning, and he's aching to get started.They find the perfect compromise with a new form of counseling—premarital sex therapy. Each private session brings them closer together, revealing the quirky, kinky sides of their deepest desires. As the role-playing sessions heat up, Hannah discovers that marriage might be the sexiest game of all.
Check out an excerpt
here
- warning: it's a great teaser!
My review:
At the beginning of this book, Morgan Webber spies Hannah Quarles making a hasty exit from a church to her car and then back into the church; he's undeniably curious. When he sees how stunning she is, he's helpless against the urge to follow her back into the church. Imagine his relief when he finds that she's not the bride in the ceremony taking place, but rather standing up with an elderly couple who is getting married. After the ceremony the church empties and Morgan and Hannah share a heated kiss before she abuptly leaves the chuch again, leaving Morgan desperate to discover her identity.
The story then picks up with Morgan and Hannah in a romantic relationship, and although Morgan has proposed marriage and given her a breathtaking engagement ring, Hannah hesitates to set a wedding date. Morgan is a patient man, but he loves Hannah and wants her to be his wife so badly that he can't help but press just a little. When he presents her with a copy of
Bride
magazine and she stumbles upon an interesting article about pre-marital sex counseling and wants to investigate the possibilities, he's not in a position to refuse. Hannah comes by her fear of commitment quite honestly, having a father who abandoned her and her mother shortly after Hannah's birth, and a mother who was seriously neglectful. Morgan is quick to use his own parents as an example of a successful marriage, as they've been happily married for thirty-eight years.
Hannah and Morgan take their counseling sessions very seriously and find the sex counseling especially interesting, being nudged into scenarios that they would never have considered on their own. When Hannah still cannot bring herself to set a date, Morgan is frustrated, but after Hannah's parents make their way back into her life, Morgan begins to understand the reasons behind her hesitation.
Just when Hannah decides to give herself, body and soul, to Morgan, fully trusting in his love for her and his promise to love her forever, he has a revelation of his own and doubts begin to take shape in his mind. Needless to say, Hannah is bombarded with emotions ranging from total despair to white-hot anger and she begins to wonder what it will take to bring Morgan back to her. Neither could have anticipated the turn of events about to take place, or the impact not only on them, but on those who love them most.
Janice Maynard has done it again. She's written a love story that goes above and beyond but doesn't quite fit the norm. She has written her heroine as the one with emotional baggage that won't allow her to proceed along the expected course of engagement, something you would normally associate with the male character. I would clarify that Hannah's "issues" aren't silly or frivolous excuses - anyone would have doubtful hesitations if they shared her painful past. Morgan is the stuff of every woman's romantic dreams. He's romantic, tender, and most definitely was present and attentive the day they gave lessons as to the way around a woman's pleasure. The secondary characters and their romantic ups, downs and heartaches are an integral part of Hannah and Morgan's tale and serve as a wonderful filler for their story to wrap around. I give this book the highest of recommendations - from the gorgeous cover to the very last page, it is excellent.
Okay, you've had a blurb, an excerpt and a review - the only thing left is to order a copy! Here's a link to
Amazon
to help you out!
Thanks so much, Janice, for allowing me to review BY APPOINTMENT ONLY for you - I seriously loved it and can only hope that others will take my advice and get their hands on it!
Next up will be a review for LuAnn McLane's latest, A LITTLE LESS TALK AND A LOT MORE ACTION - I just know it's going to be fun!
Laurie
xo